 Portfolio Tracker.
Take control of your investments. With tools and insights you won't get from your broker.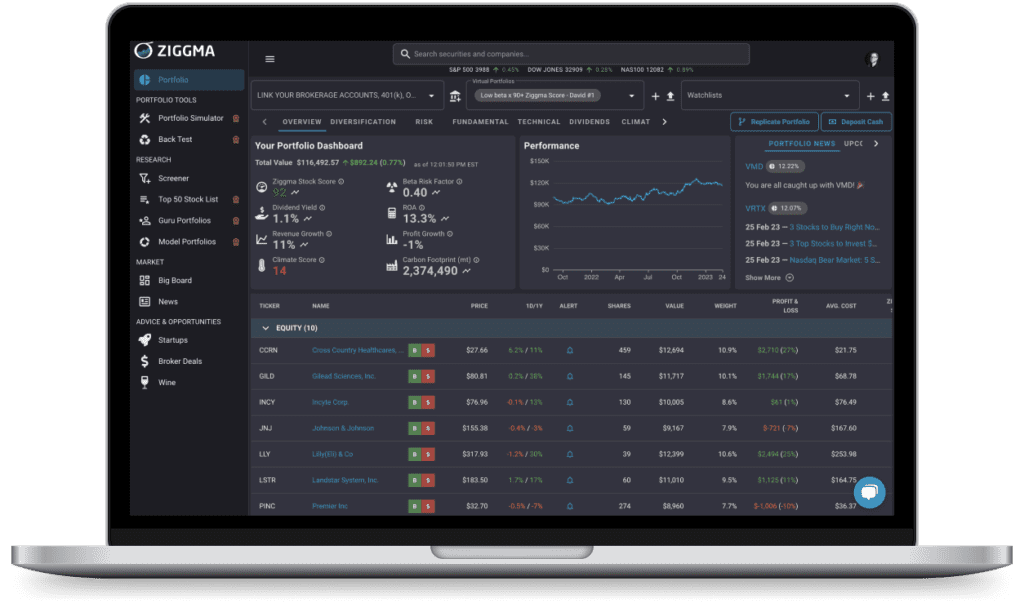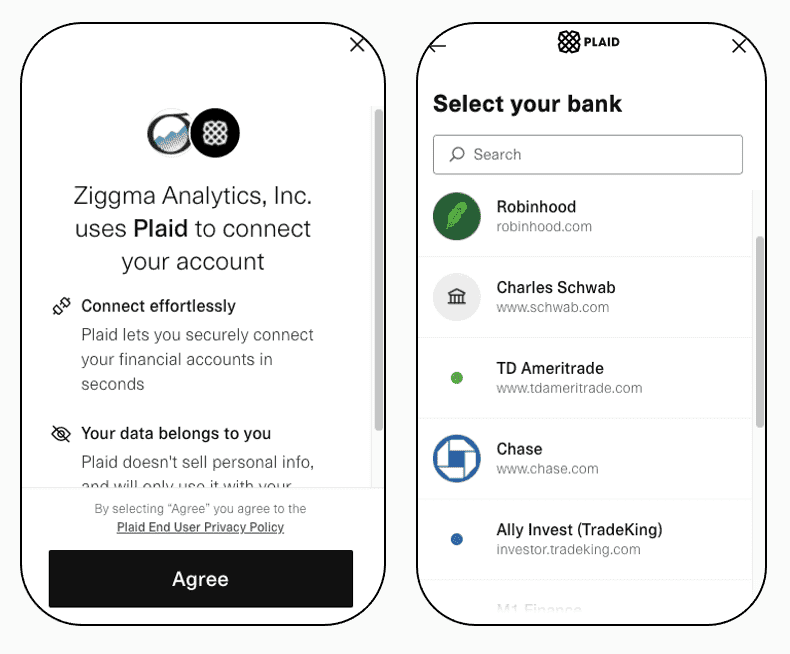 Link Your Account
Take Control – 360° View Of Your Investments
Gone are the old days of spreadsheets and mirror virtual portfolios.
Nowadays, financial account aggregators, such as Plaid, enable you to securely connect your account, 401(K) or IRA to next-generation apps, such as Ziggma. To date, thousands of investors have linked over $1 Billion in combined assets to the Ziggma app.
Ziggma DOES NOT come in contact with your account credentials. Your connection is handled and fully encrypted by Plaid.
Ziggma Smart Alerts
Let Us Do The Monitoring For You.
Ziggma's Smart Alerts are a game changer. They will save you countless hours monitoring your portfolio. Simply set a limit for maximum stock or sector exposure and get notified when the event occurs.
Trying to remember your target price for a stock? We got you covered. Simply set up a price or PE ratio alert. We take care of the rest.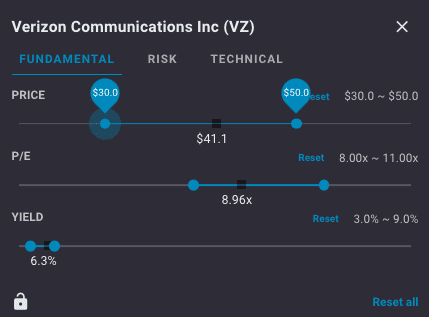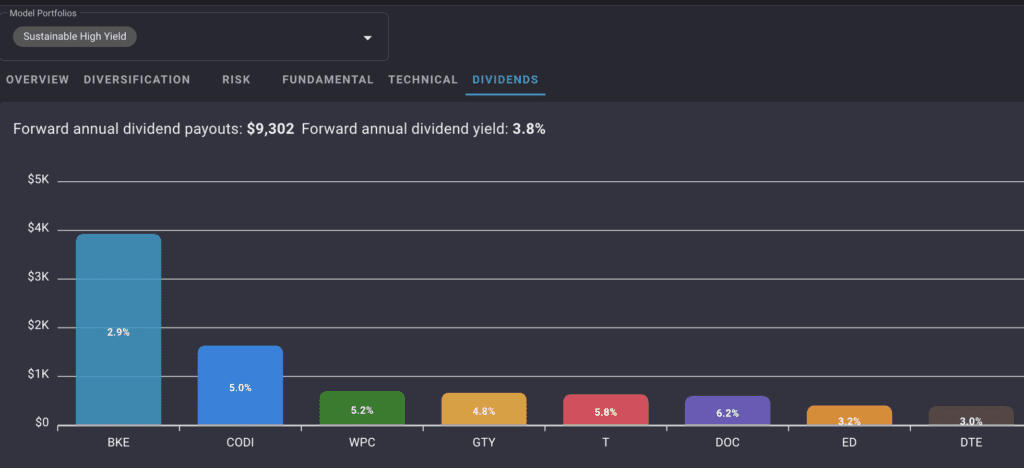 Portfolio Cashflow Projection
Dividend Tracker
Few investors actually know how much cash their portfolio generates for them. Do you?
Adding up dividend income is already a laborious exercise. But as we make transactions it gets particularly difficult to keep up.
With the Ziggma dividend tracker you will always know your cashflow for the next 12 months.
Best-of-Breed Stocks
Minimize Risk By Sticking With The Top Stocks
The Premium Plan give you full access to the Ziggma Stock Scorecards. These let you view best stocks in an industry at any given time based on around 40 different key indicators covering valuation, growth, profitability and financial strength.
Find out how the Ziggma Stock Scores are computed.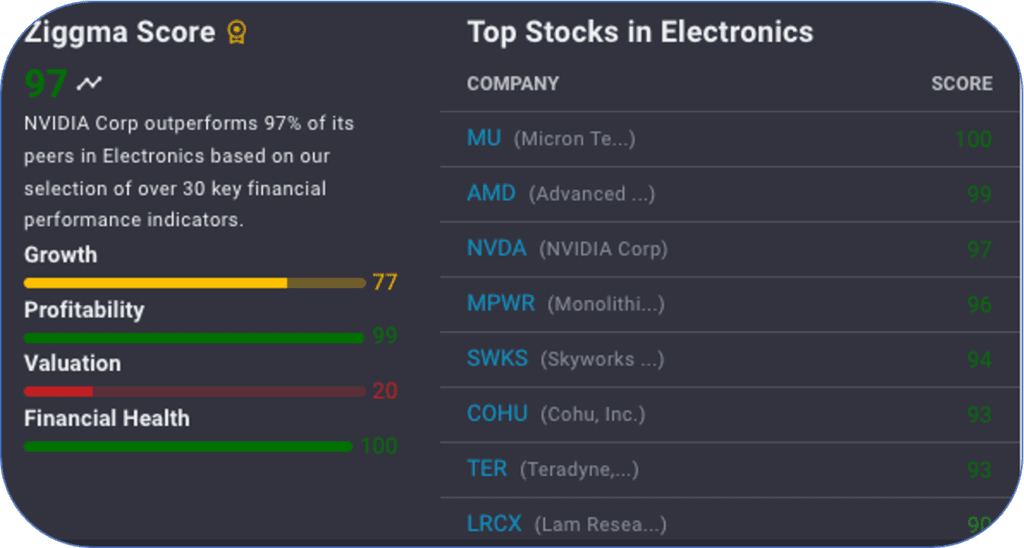 Questions and answers.
Why do I need to stay on top of my portfolio?
There are a fair number of good reasons to stay on top of your portfolio by using Ziggma's next-generation portfolio tracker. Here are the most important ones for your strategic portfolio management.
Diversification: The number one principle in investing is to spread risk across a well-diversified portfolio. You want to avoid having positions that are disproportionately large relative to your total portfolio. If something goes wrong with such a big position, your portfolio will suffer an unduly big loss. Avoid letting positions get too big as part of your portfolio risk management. The same argument must be made with respect to asset allocation as well as sector and industry exposure. Yes, you should prioritize growth sectors, but don't just pile all into the same one.
Risk: Ziggma next-generation portfolio tracker will analyze your portfolio risk and help you monitor it. It's crucial to be on top of portfolio risk in order to remain in line with your financial goals. If you are taking on too much risk, a market downturn may jeopardize your chances of reaching your goals. It will help you stay on top of portfolio risk.
Companies' financial KPIs: The software also helps you to track online financial data at the portfolio level. It shows you your portfolio's weighted average yield, growth rate and valuation, and much more. We recommend that you keep tabs on these financial KPIs in order to make sure that your portfolio remains in line with the investment strategy you set out with. This set of information makes Ziggma the premier portfolio management software in the market.
What are the benefits of Ziggma's portfolio analysis tool?
Our next-generation portfolio tracker is specifically designed to help you monitor and optimize your investment portfolio more effectively. Ziggma creates tremendous value for investors seeking to optimize their strategic portfolio management. It starts by providing a modern and intuitive user interface so that you can take in a maximum of information in a very short amount of time. This will save you valuable time and ensure that you have a good understanding of your portfolio at all times.
Furthermore, the information displayed on Ziggma portfolio analytics tool is pertinent. We provide you with relevant analytics on risk, asset allocation, diversification, financial and technical data. On Ziggma you will not find unnecessary information that will only distract your attention from what really matters. We are able to leverage our professional experience to level the playing field between the information available to institutional and non-institutional investors by building the premier portfolio visualizer tool that is freely accessible.
How do I make the best use of Ziggma's portfolio analytics tool?
It is very simple. In order to benefit from this premier software on the market, you start by linking your brokerage and/or IRA account. The data transfer is rendered completely secure by our specialized account aggregation provider Plaid. We will not ask for any identity related information in relation to your investment account. Ziggma provides its services in a "de-identified" manner.
By connecting your account with our portfolio analysis tool, we will run analytics on your live account, for which we receive updates on a daily basis. This way, our software is always up to date on your portfolio.
We recommend users to check their portfolio analytics once or several times per week depending on their activity level. Most of our data points, such as the Sharpe Ratio and portfolio beta are displayed with their historical evolution so that our tool lets you track your portfolio's risk level over time.
What do I do if the indicators tell me that my portfolio no longer shows the risk or financial profile that it initially had?
As markets move over time, so will your portfolio. When you use the Ziggma portfolio analysis tool, it will provide you with the insight you need to make sure your portfolio corresponds to your investment goals and risk appetite at all times. When the time comes that you need to make adjustments in the context of your portfolio risk management, we provide you with all the resources you need. In your portfolio risk view you will be able to identify which portfolio holdings come with the highest level of risk. In the Fundamental view you will be able to see each company's contribution to yield, growth or profitability.
At the holdings level, pay close attention to your holdings' Ziggma scores to make sure you own the best stocks in each industry. Looking for new investment opportunities, the Ziggma Stock Screener – considered by many the best stock screener in the market – will put them at your fingertips. Finally, make use of the Portfolio Simulator in order to assess the impact of a trade on your portfolio prior to actually making the transaction.
It's all these resources and tools that we put at your disposal that make Ziggma the premier portfolio management tool.