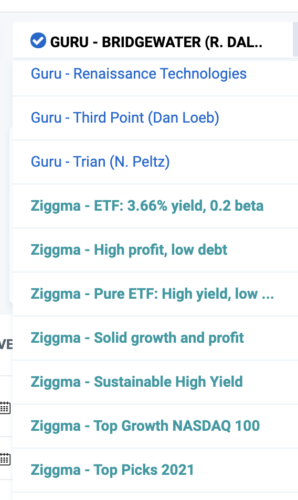 Star Investor Top Holdings and Our Own Ziggma Model Portfolio Examples
There are two types of model investment portfolio on Ziggma to help you find the best ideas to optimize your portfolio.
Star Investor Portfolios: Updated every three months, they comprise the top positions of some of the best investors in the world.
Ziggma Portfolios: Model portfolios constructed by us based on various approaches to provide a fit for every type of investor. Examples of themes are top scores, multi-asset, growth stocks, high yield ETF and much more.
Not Sure Where to Find The Best Stocks to Optimize Your Portfolio?
Why not take a look at what the world's most successful investors (we call them "Star Investors") have in their portfolios?
After all, when the Star Investors do their homework on a stock, they have some of the brightest minds in business carrying out the analysis. These are some of Star Investors whose top holdings you can find on Ziggma: Dan Loeb, Ray Dalio, Warren Buffet, Paul Singer, David Abrams, Steve Cohen and many more. Check out these model investment portfolio examples for inspiration and benchmarking.

How To Make the Most of Our Guru Investor's Model Portfolio Examples.
Once you have identified a model investment portfolio that best fits your goals and approach, there are many ways to maximize its utility for you.
First of all, you can run a back-test to get an idea of how well this investment portfolio example works. The backtest functionality is integrated our Portfolio Builder. Simply enter a start date and hit run.
Many Ziggma clients use our model investment portfolios as a starting point to create their own optimal portfolio. All you have to do is save the portfolio under a new name. Then you can delete and of course add positions until you get the portfolio that works best for you.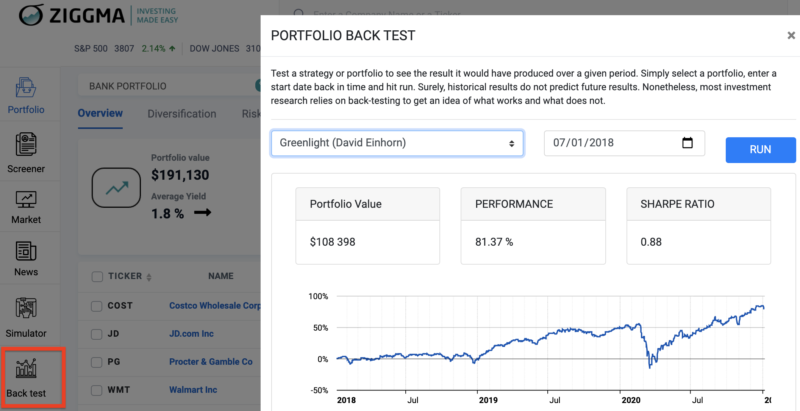 What About the Success Rate of Investment Guru Positions?
Do these Star Investors succeed with every investment idea? No, they don't. But their outstanding overall track record is a fact. Hitching a ride on some of their investment cases is certainly not a bad idea, especially if you can buy the shares at a similar level.
By following this approach you can generally be sure of a couple of things:
First, Star Investors or investment gurus as many calls them, always look for downside protection. They do this by picking companies with impeccable business models and very strong competitive positions. Just think of Dan Loeb with Sotheby's and Nestle or Nelson Peltz with Procter and Gamble.
Secondly, they will have done their homework on the investment case and in the case of activist investing they will work with the best lawyers in order to get done what they believe will create value for shareholders.
Our model portfolio Examples are part of the many ways we seek to help you make informed decisions when comparing and analyzing portfolios and investment allocations.
Check out our Investment Portfolio Tracker : The best tool to monitor your portfolio risk and optimize your portfolio investment.