Portfolio Analytics
Stay on Top of Your Portfolio with Ziggma Portfolio Analytics 

Portfolio Risk Management Analytics From Ziggma
Data and analytics play a bigger role in our lives than ever before. They are particularly important in portfolio risk management.
All successful investors are first and foremost excellent risk managers who are continuously on top of every aspect of their portfolios.
Emulating the pros, private investors are increasingly looking for web-based portfolio and risk management solutions. Get the market leading solution for active investors with Ziggma.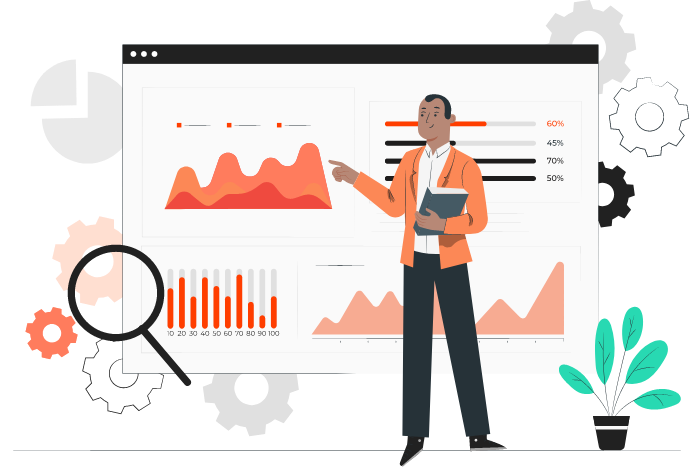 Free Portfolio Analytics

for Active Investors
Are you an active investor who is looking to free up time for researching new investment opportunities – rather than spending a large portion of your valuable time tracking your portfolio and its holdings?
If the answer is yes, then Ziggma Portfolio Analytics is the ideal solution for you. Our intuitive visuals allow you to see in a matter of seconds where your portfolio stands in terms of risk, diversification and many other relevant aspects.
Want to save even more time? Try Ziggma Smart Alerts to receive notifications when your risk tolerance limits are breached. Let us monitor your portfolio's diversification for you or alert you when one of your stocks reaches an important valuation level. Alert setting in Ziggma is ultra fast thanks to our innovative sliding scale technology.
Uses for Ziggma's Free Portfolio Analytics Tool
1
Analytics

Continuous analysis of portfolio risk, diversification and aggregated fundamentals.
2
Know your
portfolio risk
Make sure you keep risk at tolerable levels and measure returns against the risk incurred.
3
Track holdings' financial
performance
Monitor how the companies in your portfolio are performing.
4
Take action
Identify underperformers thanks to our proprietary Ziggma Scores and replace them with more attractive stocks.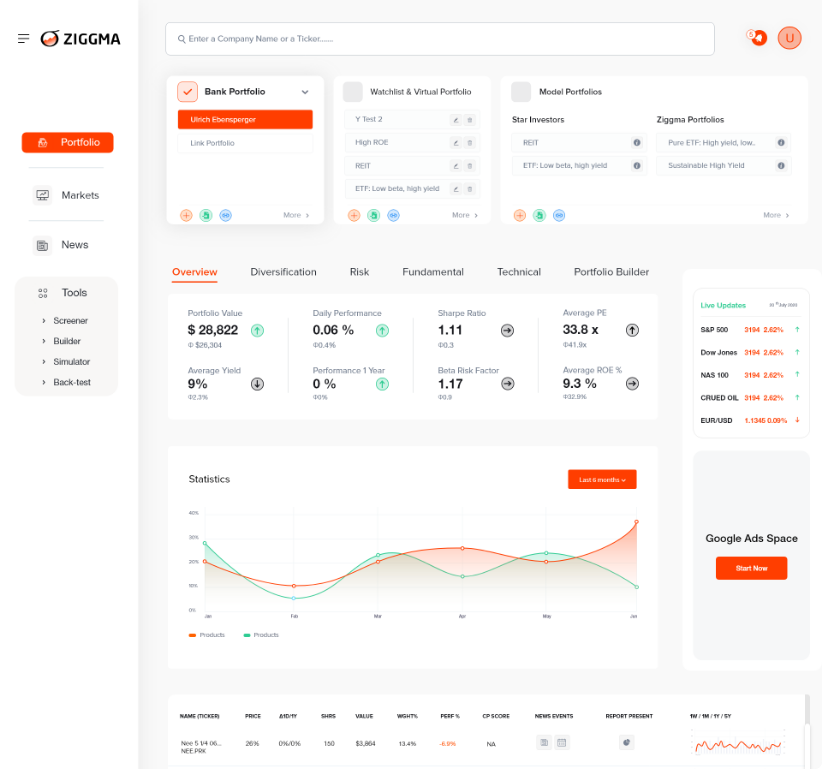 Next-Level Portfolio Analytics
for Better Risk-Adjusted Returns
Professional investors have always had access to the best and most-advanced tools – for top dollar. This gave them a considerable advantage over private investors. Personal investors made do with the crude and static views offered by the very few tools at their disposal. But Ziggma is levelling the playing-field.
Invest with more confidence thanks to professional-grade tools, such as Ziggma Portfolio Analytics.
Get Ziggma for free.
Generate better risk-adjusted returns by optimizing your portfolio with the Ziggma Portfolio Manager.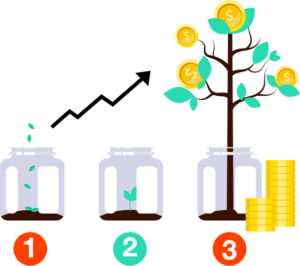 Four Reasons Why Ziggma
Portfolio Analytics Will Help You
Generate Better Risk-Adjusted Returns
Free portfolio
analytics
Our free portfolio analytics tool is intuitive and uses modern visuals that enable you to be on top of your key portfolio measures. In just a few seconds.
Portfolio Risk
Monitoring
Ziggma continuously measures your portfolio risk. By paying close attention to key risk measures, you can prevent your portfolio from incurring too much risk.
Fundamental
analysis
Our portfolio-level fundamental analysis shows you how your equities portfolio is positioned (growth vs. value vs. income).
Link your
investment
account
Our partner Plaid connects Ziggma to virtually all banks. Simply link your investment account and you will instantly benefit from Ziggma's free portfolio analytics.
Free Portfolio Analytics and Monitoring
You will greatly benefit from cutting-edge portfolio analytics by the Ziggma Portfolio Manager. But that isn't all. We take it a step further so that you will never be caught off-guard.
As active investors ourselves, we know that monitoring all portfolio parameters is complex and above all, time-consuming. That is why we have created a fast and easy-to-use monitoring tool: the Ziggma Smart Alerts.
Do you want to be sure that your portfolio remains below certain risk thresholds at all times? You want to make sure that the average yield of your portfolios stays above 5%? We got your back.
Do you think you could benefit from Ziggma's Portfolio
Analytics to manage your investments with more confidence?