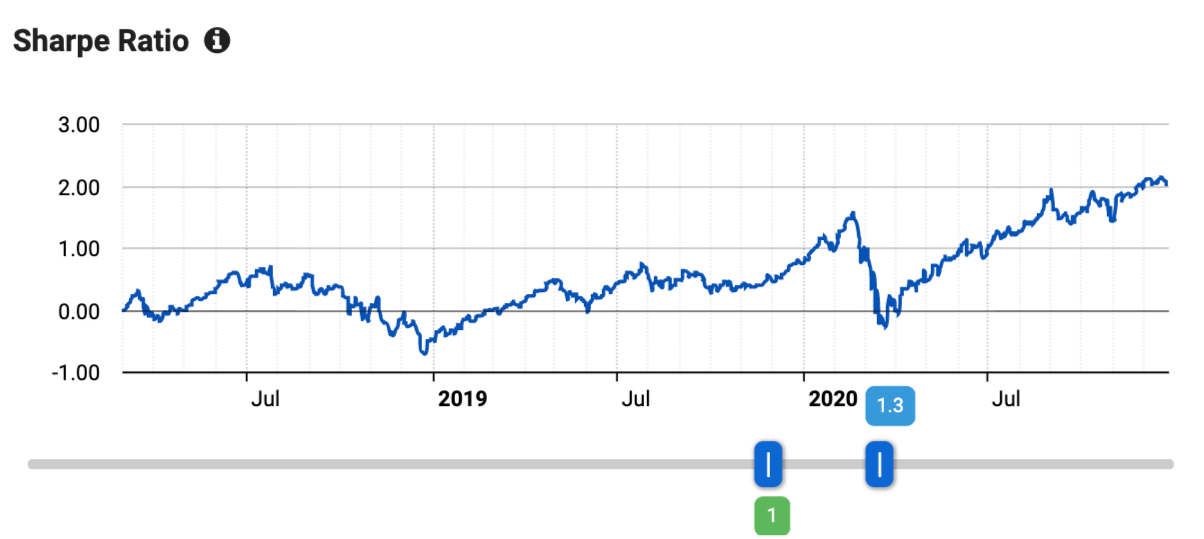 Portfolio Risk Management Analytics From Ziggma 
Data and analytics play a bigger role in our lives than ever before. They are particularly important in portfolio risk management and performance analysis.
All successful investors are first and foremost excellent risk managers who are continuously on top of every aspect of their portfolios.
Emulating the pros, private investors are increasingly looking for the best web-based risk management and portfolio analysis tool.
Get the market-leading portfolio risk management software with Ziggma.
Free Portfolio Analytics

for Active Investors
Are you an active investor who is looking to free up time for researching new investment opportunities – rather than spending lots of valuable time tracking portfolio risk and performance, diversification and individual holdings?
If the answer is yes, then the Ziggma Portfolio Analysis Tool is the ideal solution for you.
Our intuitive visuals allow you to see in a matter of seconds where your portfolio stands in terms of risk, diversification or fundamentals.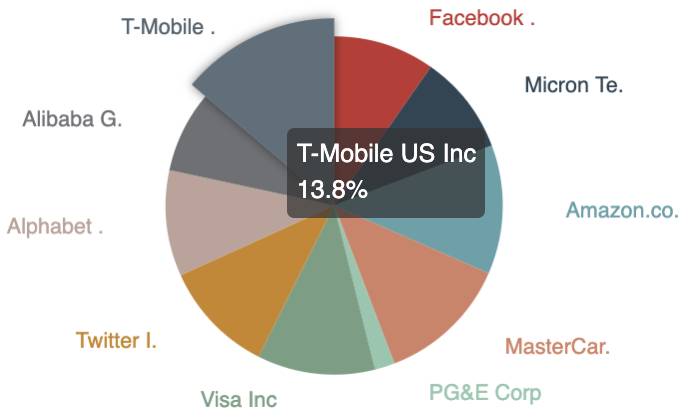 Want to save even more time?
Try Ziggma Smart Alerts to receive notifications when your risk tolerance limits are breached. Let us monitor your portfolio's diversification for you or alert you when one of your stocks reaches a maximum valuation threshold set by you.
Alert setting in this portfolio management software is ultra fast thanks to our innovative sliding scale technology.
Invest Better with Ziggma's Free Portfolio Analytics Tool
Next-Level Portfolio Analysis Tool
for Better Risk-Adjusted Returns
Professional investors have always had access to the best and most-advanced tools – for top dollar. This gave them a considerable advantage over private investors. Personal investors made do with the crude and static views offered by the very few tools at their disposal. But Ziggma is levelling the playing-field.
Invest with more confidence thanks to our professional-grade tools.
Generate better risk-adjusted returns by optimizing your portfolio with the Ziggma Portfolio Visualizer.
Four Reasons Why Ziggma Will Help You
Generate Better Risk-Adjusted Returns
1. Free portfolio analytics
Our free portfolio analysis tool is intuitive and uses modern visuals that enable you to be on top of your key portfolio metrics in just a few seconds
2. Portfolio risk monitoring
Ziggma continuously analyzes and measures your portfolio risk. By paying close attention to key risk metrics, you can prevent your portfolio from incurring too much risk.
3. Fundamental analysis
Our portfolio-level fundamental performance analysis shows you how your equities portfolio is positioned (growth vs. value vs. income).
4. Link your investment account
Our partner Plaid connects Ziggma to virtually all banks. Simply link your investment account to instantly benefit from Ziggma's free portfolio analytics tool.
Portfolio Analytics and Monitoring Seamlessly Integrated
You will greatly benefit from our cutting-edge portfolio management software. But that isn't all. We take it a step further so that you will never be caught off-guard.
As active investors ourselves, we know that monitoring all portfolio parameters is complex and above all, time-consuming. That is why we have created a fast and easy-to-use monitoring tool: the Ziggma Smart Alerts.
Do you want to be sure that your portfolio remains below certain risk thresholds at all times? Or, that the average yield of your portfolios stays above 5%? We got your back. Set a Smart Alert in a matter of seconds and let us do the monitoring for you.
Do you think you could benefit from Ziggma to manage your investments with more confidence?
SIGN UP FOR FREE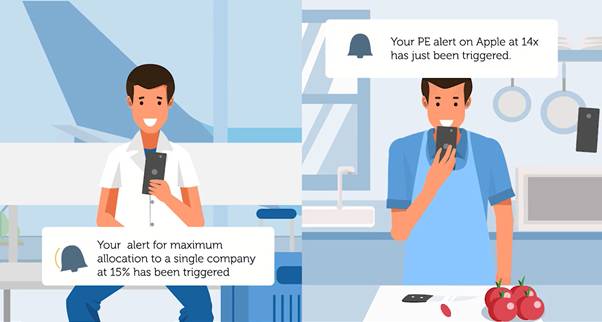 Frequently Asked Questions
There are a fair number of good reasons to stay on top of your portfolio by using Ziggma's Portfolio Analysis Tool. Here are the most important ones for your strategic portfolio management. 
Diversification: The number one principle in investing is to spread risk across a well-diversified portfolio. You want to avoid having positions that are disproportionately large relative to your total portfolio. If something goes wrong with such a big position, your portfolio will suffer an unduly big loss. Avoid letting positions get too big as part of your portfolio risk management. The same argument must be made with respect to asset allocation as well as sector and industry exposure. Yes, you should prioritize growth sectors, but don't just pile all into the same one. 
Risk: The Ziggma Portfolio Analytics Tool will analyze your portfolio risk and help you monitor it. It's crucial to be on top of portfolio risk in order to remain in line with your financial goals. If you are taking on too much risk, a market downturn may jeopardize your chances of reaching your goals. It will help you stay on top of portfolio risk. 
Companies' financial KPIs: The software also helps you to track online financial data at the portfolio level. It shows you your portfolio's weighted average yield, growth rate and valuation, and much more. We recommend that you keep tabs on these financial KPIs in order to make sure that your portfolio remains in line with the investment strategy you set out with. This set of information makes Ziggma the premier portfolio management software in the market. 
Ziggma creates tremendous value for investors seeking to optimize their strategic portfolio management. It starts by providing a modern and intuitive user interface so that you can take in a maximum of information in a very short amount of time. This will save you valuable time and ensure that you have a good understanding of your portfolio at all times. 
Furthermore, the information displayed on Ziggma portfolio analytics tool is pertinent. We provide you with relevant analytics on risk, asset allocation, diversification, financial and technical data. On Ziggma you will not find unnecessary information that will only distract your attention from what really matters. We are able to leverage our professional experience to level the playing field between the information available to institutional and non-institutional investors by building the premier portfolio visualizer tool that is freely accessible.
It is very simple. In order to benefit from this premier software on the market, you start by linking your brokerage and/or IRA account. The data transfer is rendered completely secure by our specialized account aggregation provider Plaid. We will not ask for any identity related information in relation to your investment account. Ziggma provides its services in a "de-identified" manner.
By connecting your account with our portfolio analysis tool, we will run analytics on your live account, for which we receive updates on a daily basis. This way, our software is always up to date on your portfolio. 
We recommend users to check their portfolio analytics once or several times per week depending on their activity level. Most of our data points, such as the Sharpe Ratio and portfolio beta are displayed with their historical evolution so that our tool lets you track your portfolio's risk level over time.
As markets move over time, so will your portfolio. When you use the Ziggma portfolio analysis tool, it will provide you with the insight you need to make sure your portfolio corresponds to your investment goals and risk appetite at all times. When the time comes that you need to make adjustments in the context of your portfolio risk management, we provide you with all the resources you need. In your portfolio risk view you will be able to identify which portfolio holdings come with the highest level of risk. In the Fundamental view you will be able to see each company's contribution to yield, growth or profitability. 
At the holdings level, pay close attention to your holdings' Ziggma scores to make sure you own the best stocks in each industry. Looking for new investment opportunities, the Ziggma Stock Screener - considered by many the best stock screener in the market - will put them at your fingertips. Finally, make use of the Portfolio Simulator in order to assess the impact of a trade on your portfolio prior to actually making the transaction. 
It's all these resources and tools that we put at your disposal that make Ziggma the premier portfolio management tool.