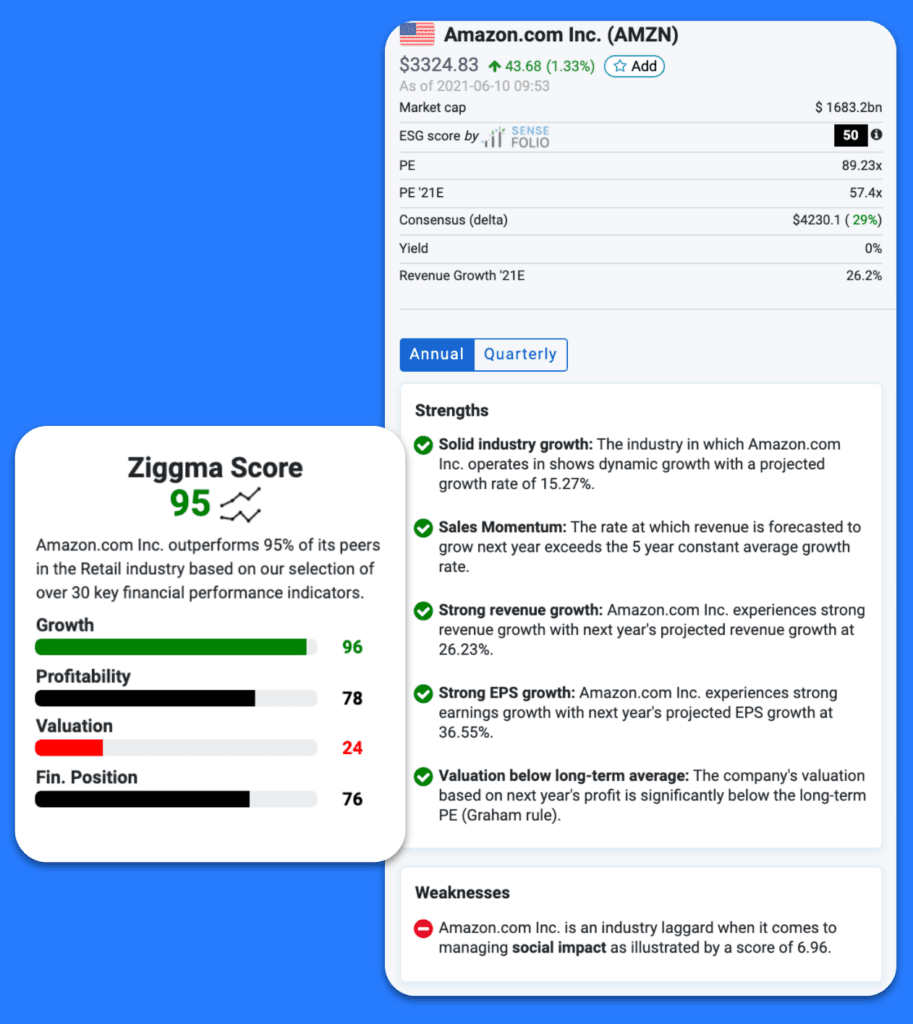 Quant stock research for professionals.
Access Ziggma Stock Scores through our API or file import to get full and immediate access to the rating of more than 2600 US stocks.
Why use our stock scores?
Proven track record
Average annualised return of the top 10% stocks by the Ziggma score was 18% vs. 10.3% for the S&P 500 (2011 – Nov 2020).
Save time
Our Ziggma Stock Scores will help you pick the winners in each industry quickly while staying away from the losers.
Unbiased
Our automated, quantitative approach provides 100% unbiased results and ranks stocks within an industry on a scale of 0-100
Evaluate portfolio holdings
Evaluate your portfolio strategy and holdings by using our unbiased proven stock ratings.
Developed by finance professionals
Our team has decades of experience working for leading global asset managers. Combining fundamental analysis with big data and algorithms.
Updated daily
The Ziggma stock scores are updated daily and immediately accessible to you through our API or by file upload.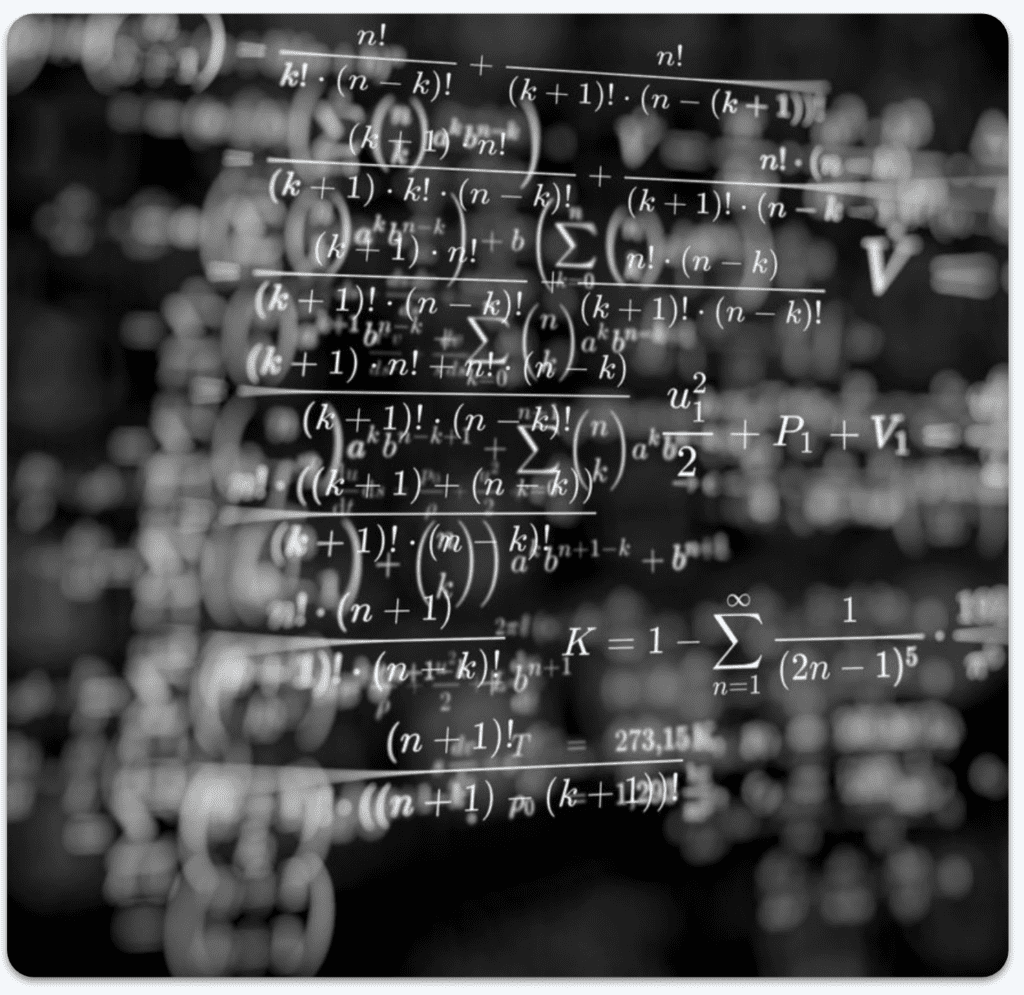 Our Approach
Algorithm based fundamental analysis.
Combine the principles of fundamental analysis with algorithm-enabled, cutting-edge data processing technology to generate a relative ranking of stocks for each industry.
Capture a total of 32 KPIs over a multi-year observation span across the evaluation categories growth, profitability, valuation and financial position.
Apply various layers of weights to reflect the importance of a category, KPI or data point in time.
Score stocks on a scale of 0 – 100 to provide an unambiguous ranking of worst to best.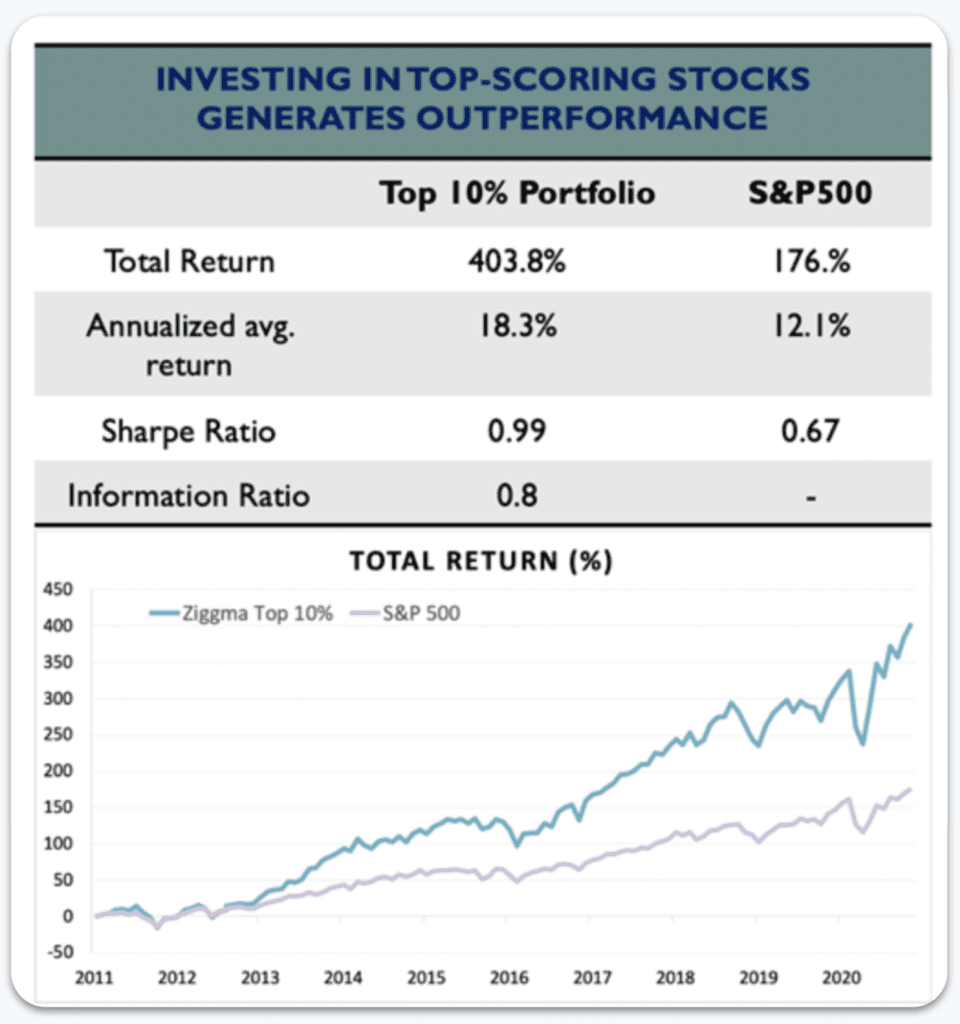 Historic Performance
Strong historic outperformance.
The chart illustrates the performance of a portfolio comprising the top-rated 10% of stocks in each industry over the time period 2011 through 6 Nov 2020. While the exact replication of the tested investment strategy may only be available to investors capable of managing large portfolios, the track record clearly demonstrates that stocks with Ziggma Scores in the top 10% of an industry generated a substantial outperformance. By deduction, top ranking stocks by Ziggma Score as a whole are likely to produce higher long-term returns than stocks outside the top 10%.
Pricing
For additional information and access to our product deck, please contact [email protected]