Your Advantages
Institutional-grade research: Access to high-quality, algorithm-driven equities analysis developed by a team of seasoned financial analysts.
Unbiased: Our quantitative approach eliminates the risk of human judgement errors in stock selection.
Time savings: The Ziggma stock scores enable our clients to immediately focus on the best stocks, freeing up time for other business activities.
Dynamic: Thanks to daily updates, we capture movements in stock prices, estimate revisions and earnings events faster than the majority of market participants.
Risk mitigation: By saving time on stock research, our clients are able to manage larger, more diversified portfolios.
Experienced team with a highly complementary skill-set: Our team combines extensive experience in financial analysis at leading asset managers and cutting-edge programming expertise.
We routinely deliver bespoke solutions for specific client needs integrating ESG scores, momentum or custom key performance metrics.
You can learn more about the Ziggma Stock Scores here.
Significant absolute and risk-adjusted outperformance of the S&P 500, back-tested over the time period 2011 through Nov 2020.
Results reflect the performance of a portfolio comprising the top-rated 10% of stocks in each industry, re-balanced monthly
Proven outperformance by stocks ranking in the top decile compared to the rest of the universe
Highly granular approach covering millions of data points in time series data
Flexible set up allowing for the testing of thousands of configurations
Inclusion of industry-specific KPIs for the banking, real estate and insurance industries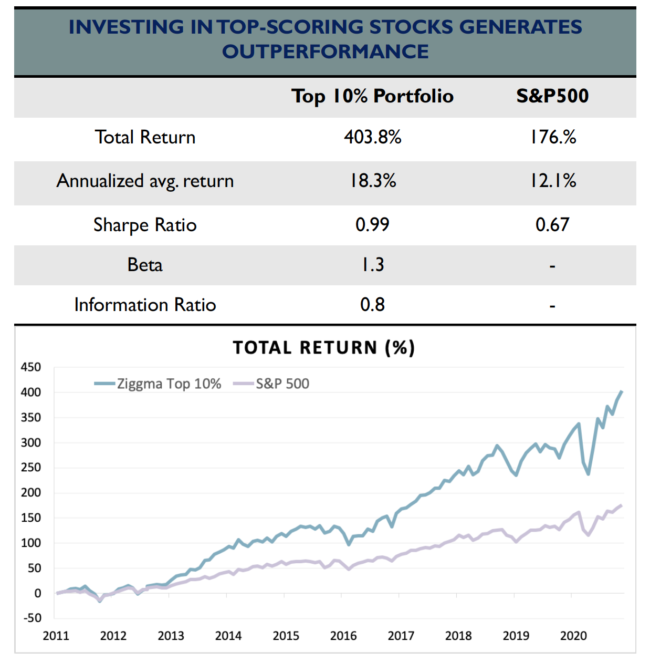 Monthly License: $ 249
Annual License: $ 1,990
One-off purchase: $ 449
(Roughly 2,600 stocks scored)
About Our Team
Ziggma's proprietary stock scoring methodology has been developed by a team of financial analysts with extensive experience working at leading asset managers, such as AXA Investment Managers or Cohen & Company Asset Management, as well as private equity firms, such Ardian Private Equity or Brockett Tamny & Co.
The technical implementation is carried out by a team of highly talented engineers and developers with a keen interest in finance and fintech.
Contact Information
Ulrich Ebensperger
Email: [email protected]