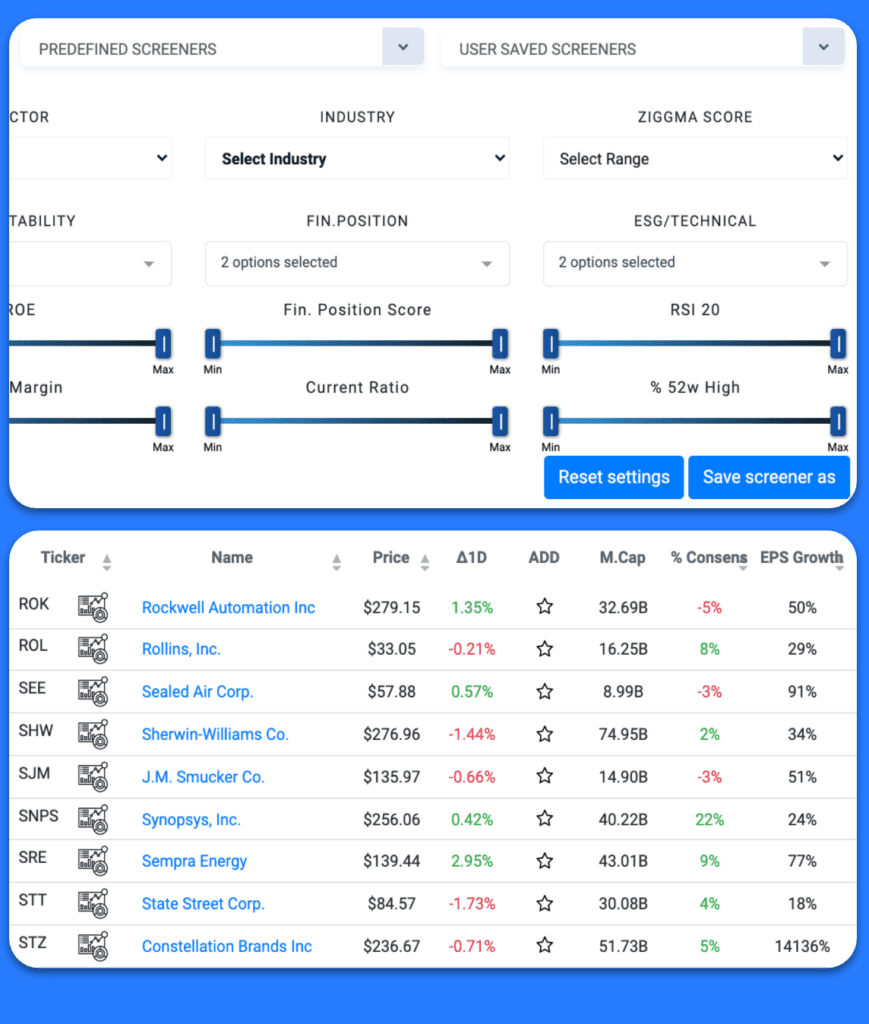 Best free stock screener.
Find new investment ideas in a matter of seconds with our lightning-fast free stock screener.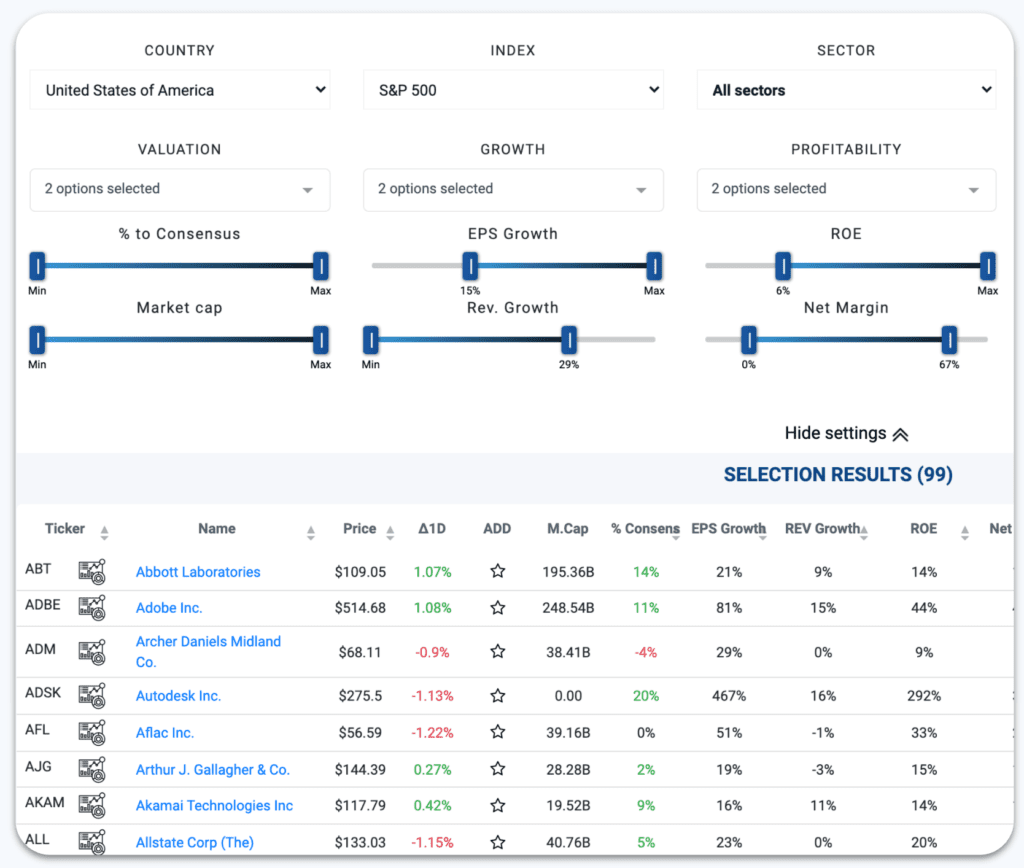 Find New Investments
The most effective way to find new stocks.
Ziggma's free stock screener lets you find the best stocks at lightning speed. Search results are updated in real-time as you conveniently shift your search parameters using sliding scales.
Wide range of fundamental and technical parameters
Preconfigured screeners
Create and save your custom screener settings
Filter and sort key metrics in search results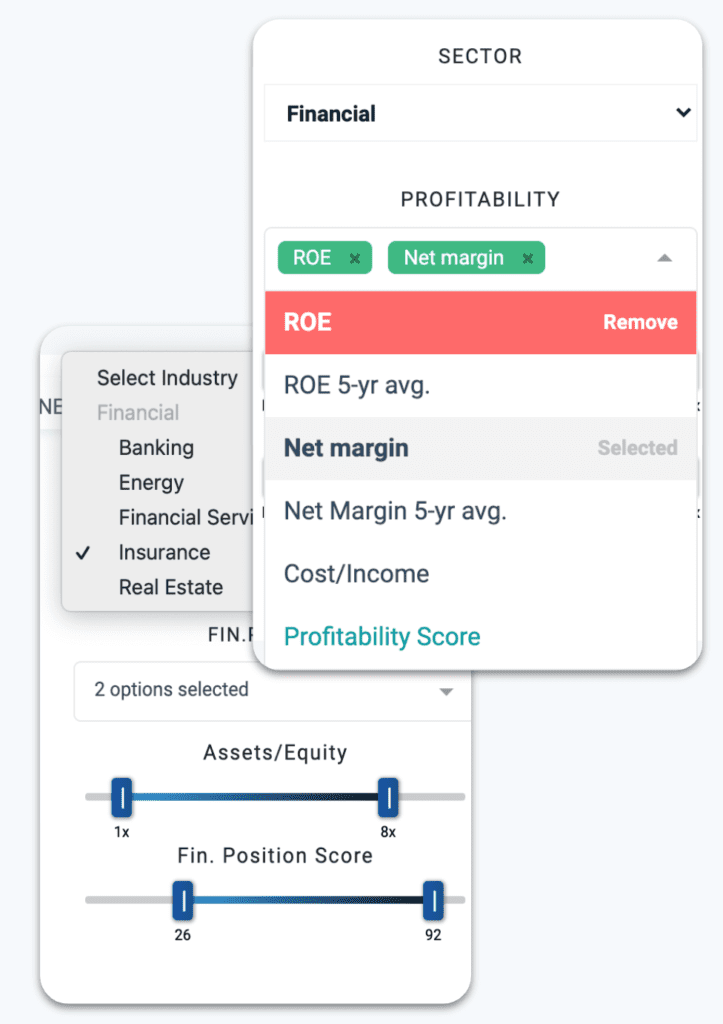 Financial Data
Industry-specific data
Once you have your eyes set on one or several stocks, you can rely on Ziggma to provide you with professional grade financial data. Only at Ziggma you can find industry-specific financial data for real estate companies, banks and insurance companies.
As seasoned financial analysts we know which key performance indicators matter and how to present them. At Ziggma you will not be held back by information overload. We will help you focus on what really matters.
Questions and answers.
How do I use the Ziggma stock screener?
This tool is as easy to use as it is effective in getting results fast. Once you have navigated to the software in the navigation bar on the left hand side, you can get started right away. Use any of the pre-selected filters or find your own filters in the menus at the top. As soon as your filter selection is completed, you can use the sliders to narrow down your search. Search results will update continuously as you calibrate the search parameters. Since the google stock screener has been discontinued, Ziggma arguably provides the best free stock screener for your investment research.
Some of the most popular search parameters are our Ziggma scores as well as the Ziggma sub scores to immediately get the highest rated stocks. Our stock screener tool has been specifically designed to enable you to compare stocks within the search window to get you best results even faster.
What are the main advantages of the Ziggma stock screener.
Most of our users love it for speed and ease of use. No dropdown menus, no manual entry of lower and upper bound. A pre-selection of the most important search parameters. We are confident that our pre-selection will meet almost everybody's needs.
What makes us so confident? Well, we have decades of experience as financial analysts working for some of the world's most renowned asset managers. So we know where to start looking. If that's not enough? Our users love the Ziggma screener considering it the best stock screener out there because they can get results so fast.
Another key advantage of Ziggma's stock screener tool consists of the integration of our proprietary stock scores. This allows users to cut through the chase and search for investment opportunities within the best stocks right from the start.
Finally, the Ziggma stock finder enables you to start your stock comparison right away by providing you an overview of companies' key performance indicators within the screener itself.
How do I get the most out of the Ziggma stock screener?
You have already reached the first milestone by discovering Ziggma's fundamental stock screener. There are different ways to make the most out of it. It really depends on how you want to look for the highest rated stocks. You can search by index, sector or even industry. But you can also screen agnostic of that by simply looking for the best stocks overall. Our sliding scales make the stock screener tool really easy to use and lightning fast.
If you know the key performance indicators that matter to you, perhaps for a given industry, you can apply them in seconds. The most important ones in our minds are pre-set.
If you don't really know where to start, simply apply the Ziggma Score filter. You can either apply the aggregate score, or use the valuation, profitability, growth and financial position sub-scores. You can even combine them all.
Once you have a set of selection results, you can use the tooltip next to the ticker for a brief company profile by hovering over the dashboard icon.
Find the best investment opportunities fast with the best free stock screener.
How do I add stocks to the watchlist or the virtual portfolio?
Ever been annoyed by the painful process of adding stocks to a watchlist? Or you could not remember whether the stock was already in there? In the Ziggma's free stock screener we have solved this problem. We have made adding a stock to a watchlist or a virtual portfolio as easy as it can get. All you have to do is to click on the star in the Add column and add the stock to the watchlist or virtual portfolio you have in mind. The color coding in the list will indicate whether the stock or ETF has already been added to a watchlist. If you decide to add the stock to a virtual portfolio you will be able to benefit from our portfolio simulation too in order to gauge the impact of the transaction on the portfolio.
Get more done in less time with the Ziggma stock screener tool.