The Ziggma Top 50 list comprises the 5 best stocks in the 10 fastest growing industries using Ziggma's proprietary stock scoring model, updated daily.
Subscribing to the Ziggma Top 50 List comes with complete access to our proprietary Ziggma Stock Scores across the Ziggma platform.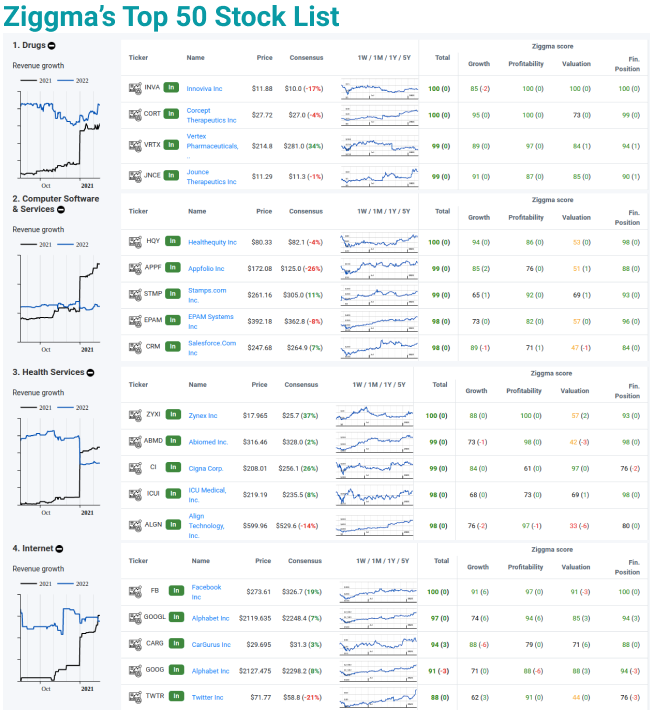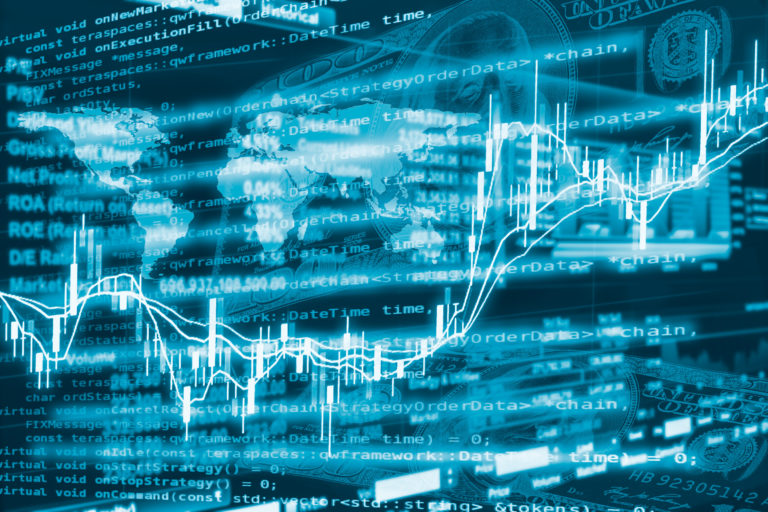 Access to institutional grade stock research powered by machine processing
The wealth of data in stock research is such that no human brain can possibly draw reliable comparative conclusions from it. Hedge funds figured this out a long time ago. Thanks to their ample resources, they turned to algorithm-driven machine processing to find the most attractive stocks.
Hedge funds hire teams like ours to build sophisticated, unbiased stock picking models to construct well-diversified portfolios comprising the highest rated stocks from the industries with the fastest revenue growth.
Only we think it is more fun to work for ourselves and help a large audience to make better investment decisions. Admittedly, the huge decline in data and processing cost helped with the choice to pursue this model.
More on our backgrounds below.
Ziggma's proprietary stock scores
Our analysis ranks stocks on scale of 0 – 100 within each of 32 different industries. The Ziggma Scores are the product of unbiased, algorithm-driven analysis on around 3,000 stocks, powered by cutting-edge data processing technology.
These factors explain the robustness of our approach:
Methodology developed by team of analysts with extensive experience working for leading global asset managers and private equity firms.
Massive investment in data quality
Focus on pertinent key performance indicators in the categories, growth, valuation, profitability and financial position and application of weights according to relevance.
Capture trends by integrating both historical and forward-looking data, applying weights based on relevance.
Custom KPIs for industries, where applicable (banks, REITs, insurance companies).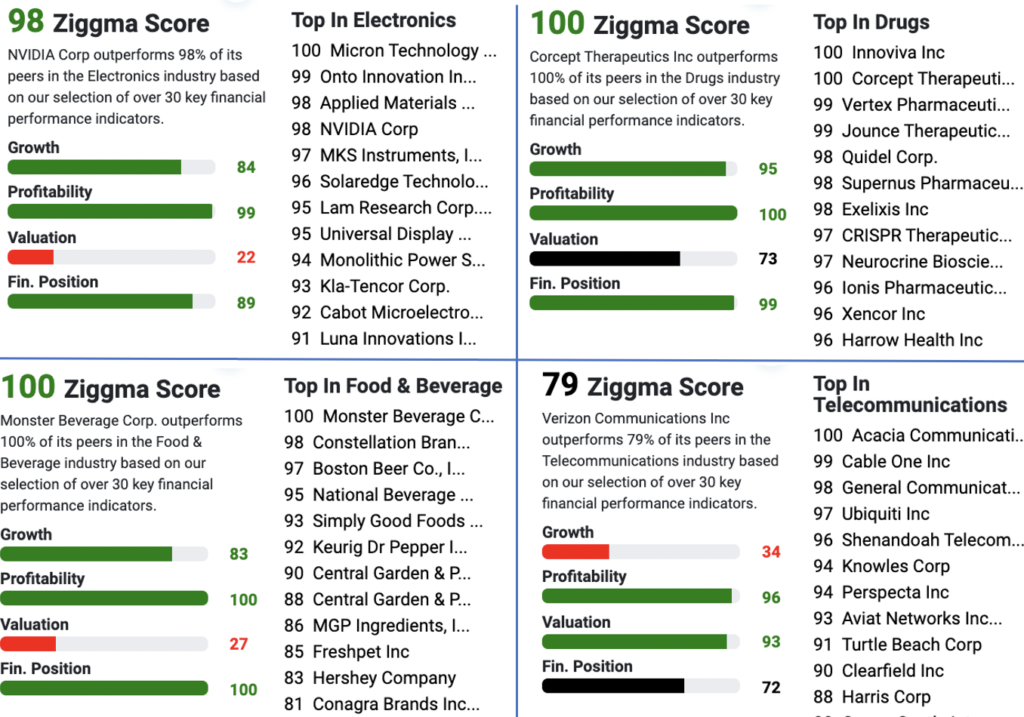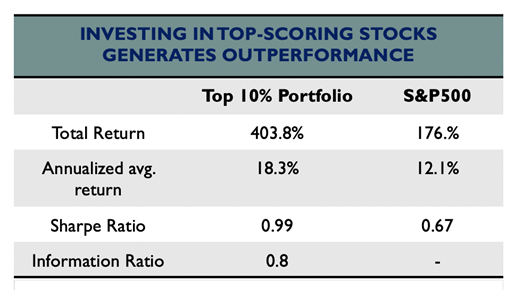 Tested results
We have tested the Ziggma Scores, and the data that goes into them, extensively. Back-testing the performance of a portfolio comprising the top-rated 10% of stocks in each industry over the time period 2011 through Nov 6th, 2020 produces market-beating results. As the chart illustrates, the average annual return of this portfolio amounted to 17.98% vs.10.3% for the S&P 500.
Doing away with the old-fashioned Buy/Hold/Sell paradigm.
We process millions of data points on a daily basis. The probability that two stocks score the same is virtually nil. Hence, we rank them from best to worst using plain and simple math. We believe this relative ranking to be much more helpful for investors than the indiscriminate buy or sell ratings for companies within the same industry that is produced by investment banks. On top of this, our sub-scores for a company's growth, valuation, profitability and financial position clearly show users what drives the aggregate Ziggma Stock Score.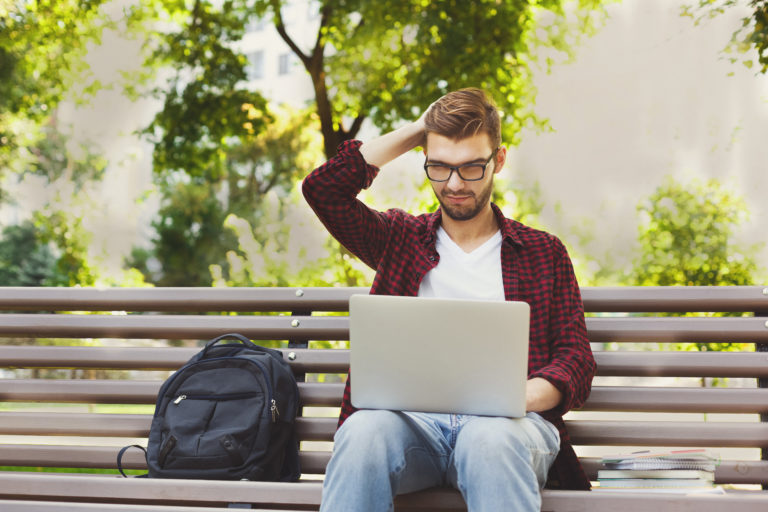 About Us
The methodology for the Ziggma Score has been developed by a team of financial analysts with extensive experience working at leading asset managers, such as AXA Investment Managers or Cohen & Company Asset Management, as well as private equity firms, such Ardian Private Equity or Brockett Tamny & Co.
The technical implementation has been carried out by a team of highly talented engineers and developers with a keen interest in finance and fintech.
If you want to know more about the scores or our team's background, please get in touch with us at contact@ziggma.com.
Frequently Asked Questions
Ziggma's stock scores are generated daily by a systematic quantitative model with no human intervention. The backtested return does not reflect an actual portfolio from an investment product. The return is from a backtested hypothetical portfolio. The hypothetical portfolio was equally weighted, exclusive of paid dividends, rebalanced monthly, with zero transaction costs.
Past performance is no guarantee of future results. Therefore, you should not assume that the future performance of any specific investment or investment strategy will be profitable or equal to corresponding past performance levels. Inherent in any investment is the potential for loss. This material is being provided for informational purposes only and nothing herein constitutes investment, legal, accounting or tax advice, or a recommendation to buy, sell or hold a security. No recommendation or advice is being given as to whether any investment is suitable for a particular investor. It should not be assumed that any investments in securities, companies, sectors or markets identified and described were or will be profitable. Ziggma Analytics is not a fiduciary by virtue of any person's use of or access to the website. You alone assume the sole responsibility of evaluating the merits and risks associated with the use of the information on the website before making any decisions based on such information or other content. Any views or opinions expressed may not reflect those of the firm as a whole. Ziggma Analytics is not a licensed securities dealer, broker or US investment adviser or investment bank.