Take Control of your
investment Portfolio
Link all your investment accounts for comprehensive portfolio and risk analytics
Find the most attractive investment opportunities with our best-in-class stock and ETF screener
Benefit from financial data and stock analysis prepared by professional analysts

We currently cover the US stock markets. Stay tuned for global coverage
Do you know your portfolio risk?
Are you sure that you have only winners

in your portfolio?
Link one or several
investment accounts to
Ziggma
Through a fully secure
connection enabled by our
partner Plaid
Benefit from Ziggma's
analytics and tools across
all your accounts
Sign up to the Ziggma Portfolio Manager today and manage your
investments more effectively.
Our Investment Portfolio
Management Tools

Portfolio Analytics
Continuous analysis of portfolio risk, diversification and your holdings key performance indicators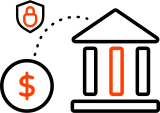 Account Aggregation
Get the full picture by aggregating all your investment accounts on Ziggma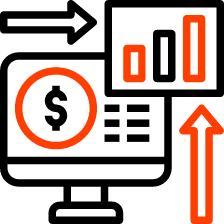 Portfolio Optimization
Use our portfolio simulation and back-testing tools to create the optimal portfolio

Multi-Asset
Screener
Find the best stocks, ETFs and bonds with our high performance screener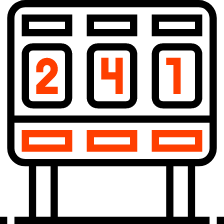 Company Performance
Scores
Select the best companies thanks to our proprietary scoring system. Combines our decades of experience as professional financial analysts with cutting-edge big data analytics

Professional Grade
Financial Data
Get the relevant financial key performance indicators displayed in an intuitive fashion. Benefit from industry-specific KPIs for banking, insurance and real estate
Why Ziggma's Investment Software Will Take Your Portfolio Management
To the

next level
Intuitive portfolio visuals convey information more effectively
Innovative monitoring tools to free up your time
Link your investment accounts to Ziggma to stay on top of your portfolios
Market-leading financial data and performance scores for stock research
Use our model portfolios to benchmark and find inspiration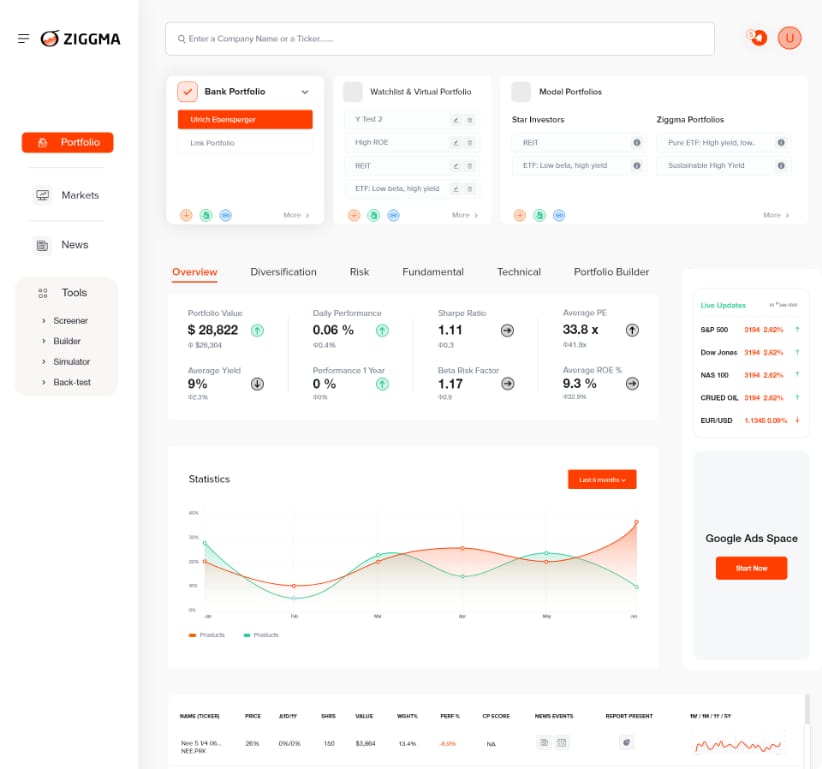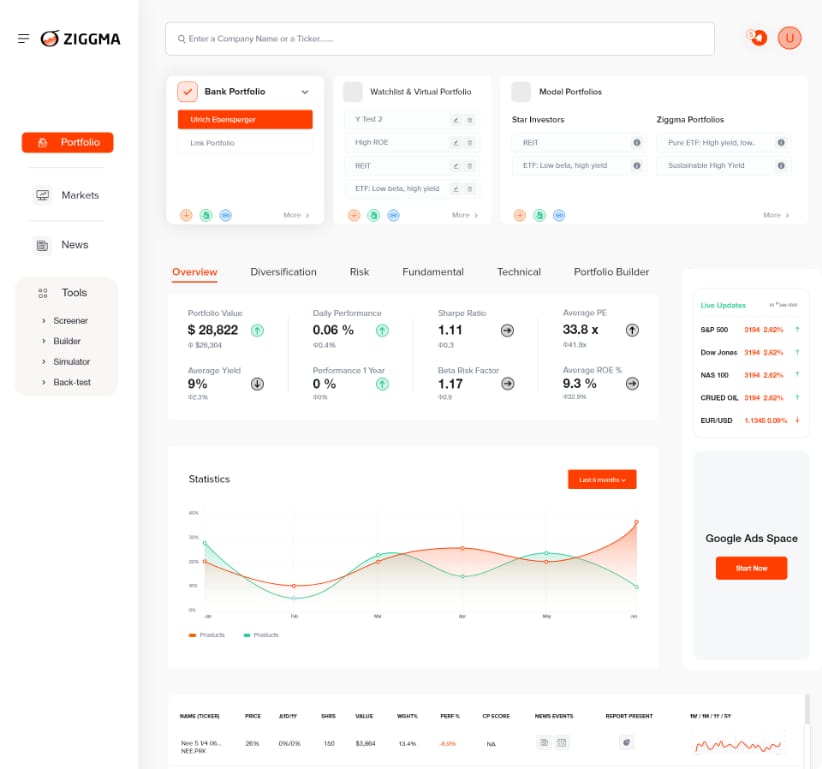 Who Can Benefit From the Ziggma Portfolio Manager?
The short answer:

Anyone
The active investor continuously striving to optimize his/her portfolio
The hands-off investor looking for a convenient way to stay on top of portfolio risk and companies' financial performance
The opportunistic investor who actively trades a large number of stocks, thanks to Ziggma Smart Alerts
Beginners to investing who benefit from the Ziggma model portfolios and stock scores.
David
Robinhood account holder
"I use Robinhood for the free trading and Ziggma for tracking my portfolio. It works out great."
Alex
Interactive Brokers account holder
"Ziggma is modern and easy to navigate. The financial data is unlike anywhere else."
John
Vanguard and Ameritrade account holder
"Finally, I can aggregate my brokerage account, with our Roth IRA and my wife's simplified employee plan."
Daniel
Fidelity account holder
"The Company Scores are great. They help me find the winners and monitor whether my companies are staying on track."
Remy
Charles Schwab account holder
"Love the convenience of Ziggma's smart alerts which allows me to focus on other things."