Frequently Asked Questions
Ziggma's portfolio management tools and financial data are designed to help you invest better in less time. In this FAQ section you will find a wealth of information about the tools, how Ziggma works and our intentions.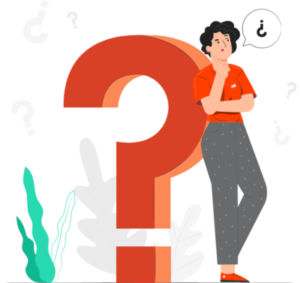 Our mission is to make investing easy by providing innovative portfolio management tools and institutional-grade financial research data including proprietary stock scoring.
We believe that investing should not be easy and cumbersome. Well-designed tools and user interfaces can make investing a pleasant experience. After all, everyone should participate in the value creation of the many companies out there creating value for their shareholders with superior products and services. In 2019, being fed up with the lack of portfolio management tools provided by our banks and brokers, we decided to take matters into our own hands.
Please note that Ziggma does not intend to provide investment advice or recommendations. For this we would need to take into account each user's specific situation, i.e. age, financial resources, familiar status, risk tolerance, yield objectives and much more....
We therefore cannot advise our users about investment decisions. All information on Ziggma, including the Ziggma Scores, is for-information only.
First of all, Ziggma is the only platform that is built around portfolio management helping you manage your portfolio better. On top of this, Ziggma provides an institutional-grade investment research platform that includes our proprietary stock scores.
These are numerous features on Ziggma that help you invest better. These are some of the most popular:
Portfolio dashboard with performance and risk metrics
Ziggma Top 50 Stock List
Smart alerts set by the user to save time otherwise spent monitoring the portfolio
Portfolio Simulator
Portfolio Back-testing
Ziggma stock scores
Model portfolios
Lightning-fast stock and ETF screener
Market Dashboard
Daily Portfolio Recap
Custom key performance indicators for the industries banks, real estate and insurance
Our team is essentially a mix of former credit and equities analysts and talented developers and designers. While this combination of expertises is helpful to get off to a good start, something more is needed to build a great platform. It's that our tech team knows and understands finance and our finance team loves putting new technologies to use. This combination of skill sets and interests, which we find to be rare based on our professional experience, has proven a great recipe.
Ziggma is neither a broker nor an investment advisor. The Ziggma Portfolio Manager provides portfolio management tools and investment research information in order to help investors invest better.
You cannot enter or transmit any orders on Ziggma. Please connect to your broker for trading.
We have set out to build Ziggma to provide self-directed investors with an integrated, institutional-grade portfolio management and investment research platform. But we have to go about it the right way – honest, transparent and respectful to our users. We need to generate income in order to serve you better. This means that a few of our features that are especially complex and advanced, like our proprietary Ziggma Stock Scores and the Portfolio Simulator, are subscription features. In addition, most of our new feature development will be for subscribers – we'll invest the most in the users who have invested in us.
You can use Ziggma for free or subscribe, simple. We reinvest what we earn from subscriptions straight back into building more and better features – not devising ways to fill up your screen with ads or sell your personal information. We simply want to make a product so good that you're happy to pay for it. The subscription costs just slightly more than a Latte from a nice coffeehouse, and many investors will agree that it's money well spent. But we also know that the free version of Ziggma must remain high quality and useful. Rest assured that we will always offer a version of Ziggma for free, and you belong in this community whether you subscribe or not. We're betting all our chips on you, either way. We hope you'll bet on us.
You can get started in just a matter of seconds by signing up via Google or Facebook. Alternatively, create an account with your email adress and password. It hardly takes any longer. Once this is done, there are essentially three possibilities to kick off the Ziggma experience:
1. Import your portfolio from your brokerage account by simply clicking on "Link Your Portfolio". The fully secure connection to your account is enabled by Plaid, the leading account data aggregator in the US. For the avoidance of doubt, note that Ziggma will not know or handle your account number or password at any given point in time. This information is safely stored by Plaid.
2. Create a portfolio. For example, by using our lightning-fast stock screener. Or, get started from one of our many Model Portfolios
3. Import a watchlist or virtual portfolio from Yahoo Finance (no formatting necessary).
Linking one or several bank accounts to Ziggma is a very straightforward process. Simply started the process by clicking on the "Link" icon in the portfolio menu.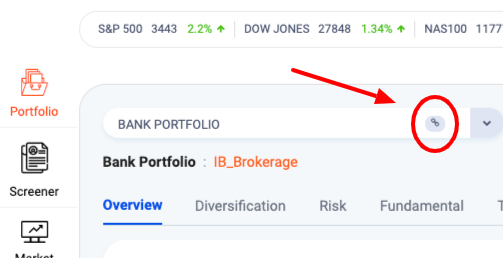 Next, please select your bank from the menu. At this point our account aggregation provider Plaid will take over by establishing a fully secure connection to your bank. Plaid, which was acquired by VISA in early 2020 for $5 billion, is the market leader for this type of service. For the avoidance of doubt, Ziggma will not know or handle your account number or password at any given point in time.
You can import your portfolio from thousands of banks and brokers in the US thanks to the fully secure data connection technology provided by our partner Plaid.
Yes, it differs a bit. There is one configuration you have to make in your Interactive Brokers account settings. Please find our explanation
here.
Our Screener is a next-generation stock and ETF screen that gets you results at lightning speed. Set your criteria in a matter of seconds on sliding scales and see the number of search results change in real-time. Our Screener allows you to move effortlessly between stocks and ETFs.
There are two types of Model Portfolios: Star Investor Portfolio and Ziggma Model Portfolios
Star Investor Portfolios consist of the top holdings of some of the most successful investors in the world, as per their most recent SEC filings. The idea behind this is simple. Find inspiration in the Star Investor Portfolios or use them as a start point for building your portfolio. After all, these are the top holdings of the most renowned and successful investors in the world. They own these stocks for a reason. The due diligence on these stocks was carried out by some of the most brilliant analytical minds in finance.
Model portfolios are constructed by us based on different approaches but with the same intentions. To provide inspiration or even starting points to our users. There are many different themes, such as top Ziggma Scores, multi-asset, high yield ETF, growth stocks and many more.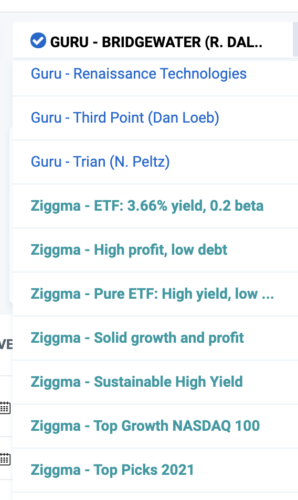 The back-testing tool is conveniently located in the Menu Bar. Simply open the tool, pick the portfolio you would like to back-test and set a date. Hit "Run" to see what the performance of the portfolio would have been over the chosen period.
Ziggma offers its users the possibility to set smart alerts to monitor key portfolio parameters, such as risk or diversification. By setting smart alerts you let us do the monitoring for you.
Monitoring portfolio risk is a particularly important aspect of good portfolio management. By letting you set smart alerts for portfolio beta, Sharpe Ratio, maximum single position or single sector exposure, we take care of the monitoring for you. Once the thresholds set by you, conveniently on sliding scales, are hit, Ziggma will immediately send you a notification concerning the event triggered.
As a Ziggma Premium user you can set smart alerts on key financial ratios of your favorite stocks in a matter of seconds, thanks to our ruler bar technology. By setting smart alerts on PE ratio or dividend yield investors are informed when entry of exit points are reached without having to continuously monitor the securities in question.
It is very quick and easy to set alerts on our sliding scales. Simply click on "Edit Alerts" and set the lower and upper bounds that matter to you for price, PE ratio, yield and much more. We will send a notification as soon as the limits set by you are reached. Let us do the monitoring for you so that you can spend more time researching new investment opportunities.
Plaid provides the technical infrastructure that connects investors and consumers with traditional financial institutions. The company is the trusted data technology provider for Citi, Transferwise, Robinhood, Betterment and many other well-known financial institutions worldwide.
Bank accounts at all of the major brokers and banks can be connected to the Ziggma Portfolio Manager. If you have an account at Fidelity, Charles Schwab, TD Ameritrade, Robinhood or Citigroup, just to name a few out of thousands, you are good to go.
Yes, it is. The account connection is handled by Plaid, the leading provider of this service (account aggregation) in the US. Plaid works with pretty much every bank in the United States. The fact that the company was recently acquired by VISA for over $ 5 billion is a testament to the quality of its technology. You can learn more about Plaid's policy by clicking on the respective links. In the interest of complete clarity, your bank account log-in information is handled solely by Plaid. At no point in time will your bank account log-in information travel through the Ziggma systems.
Really not a lot. And we think it is best this way. We are in the business of providing a service, and not in the business of collecting and selling data. Essentially we will have your alias or name (which may or may not be James Bond or Princess Leia), your investment account holdings and your bank's name. It means that we are providing our portfolio analytics essentially on an anonymous basis. For the avoidance of doubt, please note that Plaid does not provide with any information on any checking, savings or loan accounts you may have. We are focused on investments only. Our mission is to make investing easy.
Plaid provides us an updated record of your investment portfolio once a day over night.
Ziggma has been built to work with all of the main web browsers.