Most investors will fail to realize the investment returns they set out to achieve without access to a high-quality investment research offering. Through Ziggma, you can now get institutional-grade fundamental stock research at an affordable rate. This article gives you five reasons why using the Ziggma Stock Score will get you higher returns.
Though not rocket science, investing is complex and time-consuming. To properly research a stock, an investor must consider a multitude of parameters. Hundreds, if not thousands, of data points can factor into an in-depth analysis of a stock.
The Ziggma Stock Score represents a single number output of big data analytics applied to fundamental stock research, meaning we do the number crunching for you.
Reason # 1. Better stock selection
The Ziggma Stock Score is a very powerful research tool. Every single day, our computers crunch millions of data points to produce relative scoring for over 3,000 US stocks. The Ziggma Stock Score is very simple to understand and use, as it reflects a stock's attractiveness relative to its industry peers. This enables our users to directly pick from the top stocks in each industry, sometimes referred to as the "best-of-breed" stocks by the famous TV show host Jim Cramer.
Our Premium subscribers benefit greatly from immediately viewing the top ten stocks in a given industry in any stock's scorecard.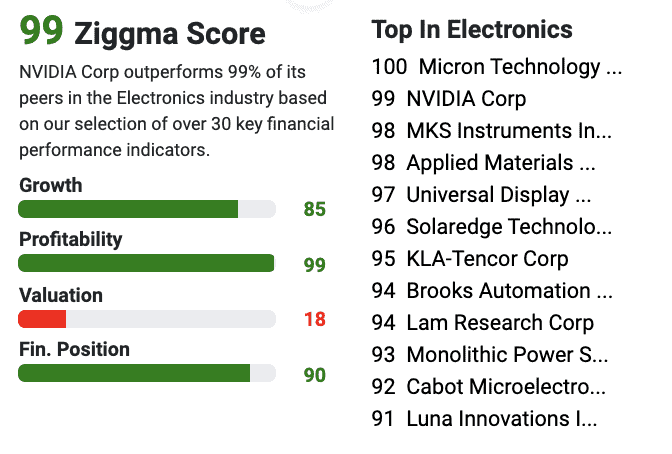 We have invested a lot of resources into research and development. This includes extensive back-testing, which has shown significant outperformance for strategies employing the Ziggma Stock Score.
Reason #2. Affordability. Top-grade stock research tools made accessible
Our ultimate objective is to drive the digital transformation in wealth management and investing. A major part of this is to democratize access to high-quality investment research and alternative assets. We believe that wealth management and investing tools will become commoditized and ever more affordable.
Our pricing already reflects this belief. The Ziggma Premium Plan, which gives you full access to the Ziggma Stock Scores, costs as little as $7.42/month on an annual subscription and only $9.90/month on the monthly plan.
There is way more than just investment research
The benefits of the Ziggma Premium Plan are not limited to institutional-grade investment research but also include innovative, next-generation portfolio management tools designed for more effective portfolio management.
Free access
Not ready to step up to Premium, yet? No problem. Most of Ziggma is free anyway. Whether it is synching your investment account, researching stocks or using our free stock screener.
Simply sign up and use the many free features for your portfolio management and investment research.
Reason # 3. Monitor your stocks for free with the Ziggma Portfolio Tracker
Wealth management and investing are long term games. Unless you are a day trader, you will pick stocks for their long-term prospects. The Ziggma Stock Scores are the ideal tool to help you monitor your portfolio companies for the long run.
The Ziggma Portfolio Tracker displays Stock Scores for free
Knowing your portfolio's beta gives you an indication how much fluctuation to expect from your portfolio relative to the overall Whether you synched your investment account or created a virtual portfolio with your top picks, the Ziggma Portfolio Tracker will display the Ziggma Stock Score for each one of your holdings.

Monitor portfolio-level quality over time
Many private investors fail to look at the portfolio as a whole, contrary to professional investors. An explanation for this may be the lack of tools made available to private investors. We have set out to change this. The Ziggma dashboard lets you monitor your portfolio quality over time through the weighted average Ziggma Stock Score.

Reason # 4. Sub-scores for growth, value, profitability support different investor approaches
A unique feature in the marketplace, the Ziggma sub-scores for growth, valuation, profitability and financial situation support various investment approaches. If you are a growth investor, the sub-score for growth will tell you in an instant which company in a given industry experiences the strongest growth rates. In fact, our free stock screener let's you conveniently conduct your research based on sub-scores, as you can see in the image below. It is therefore extremely convenient for all types of investors, whether they focus on growth, value or sustainable income.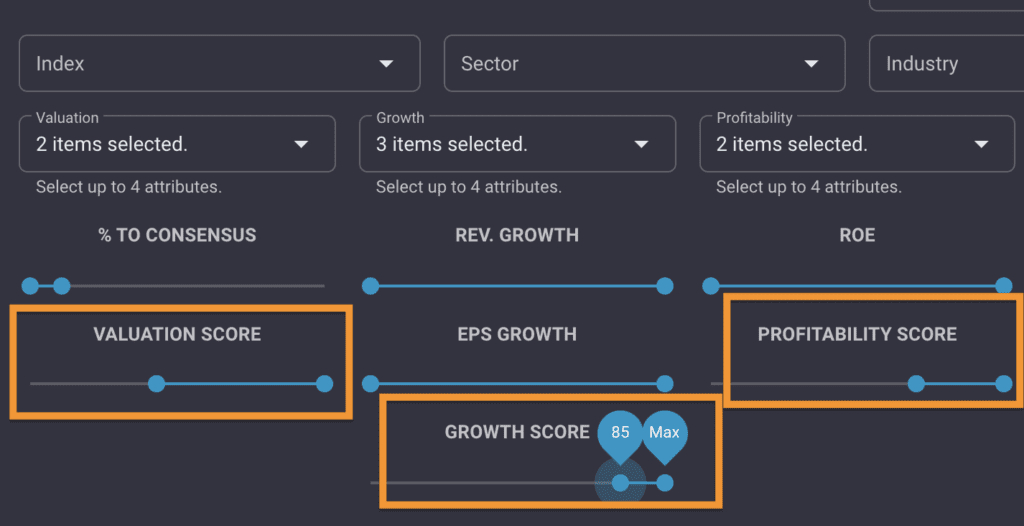 Reason # 5. No bias, no conflict of interest
PossiAt Ziggma, we have no hidden an agenda. We do not push stocks, we do not receive commissions, if you trade more. In return for your investment in the Premium Plan, you get unbiased, data-driven, fundamental stock research in the form of the Ziggma Stock Scores, 100% free of conflicts of interest.
Quantifiable output
Throughout our career in institutional finance, we struggled with the concept of Buy, Hold, and Sell ratings, finding them unprecise. How do I weigh one Buy rated stock against another one in the same industry? Until when is it a Buy? Is the analyst overly optimistic because his bank needs to ramp up fee revenue for the quarter?
Our methodology covers millions of data points, 40+ key performance indicators, time series data, weights, etc. It bears out mathematically how a score matches up against its peers. Given the amount of available data, it is impossible to get two identical outcomes. This allows us to rank stocks from best to worst and vice versa. This is why you do not get vague Buy, Hold or Sell ratings on Ziggma.
In conclusion
The Ziggma Stock Score is most definitely the most popular feature on Ziggma, followed closely by our free stock screener.
That said, keep in mind the many other powerful features available on Ziggma.
Portfolio Simulator
Model Portfolios
Guru Portfolios
Top 50 Stock List
Smart alerts
Market-leading stock profiles
Peer comparison
Dividend schedule
If you haven't done so, sign up today for free to leverage Ziggma's tools to manage your portfolio more effectively.