It is crucial to employ the best stock research tools in today's fast paced and highly volatile equity markets. With markets prone to rise or fall in value rapidly depending on the latest news, thorough research is more important than ever to selecting individual stocks.
For instance, an investor with a long-term time horizon who has a strong rationale for purchasing a stock is more likely to be able to ride out market fluctuations that might otherwise cause investors to get "whipsawed," or shaken out of a trade due to volatility rather than any change in the stock's fundamental picture.
Don't settle for anything less than the best stock research tools
To find stocks that you can believe in takes the type of in-depth research that has long been difficult for individual investors to perform. Without the ability to rapidly sort through a wide variety of company data and key performance indicators (KPIs), individual investors enter the ring (i.e., the competitive arena that constitutes today's stock markets) with one hand tied behind their backs.
While in the past the software tools necessary to do this were too expensive for most individual investors to take advantage of, that has changed in recent years, Now, investors can use Ziggma's stock screener to rapidly search for public companies that meet their investment criteria without having to pay an arm and a leg for the privilege.
With the retirement of the Google stock screener, we believe the detailed search criteria and other features our screener offers makes it, arguably, the best free stock screener around.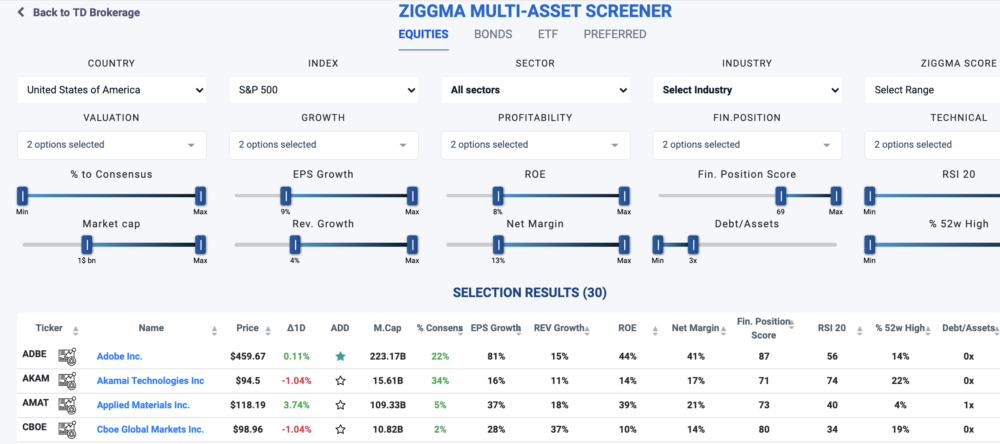 Democratizing Investment Research
Powerful stock research tools with the ability to rapidly screen a large number of companies for attractive characteristics are no longer primarily the province of large institutions who can afford to pay hefty subscription fees. Individual investors can now use Ziggma's stock screener tool to find stocks using criteria similar to those used by the big institutions.
Ziggma's software is a powerful resource for finding companies that tick off a number of the boxes frequently used by investors to help identify promising opportunities. These include identifying companies that are:
Very cheap from a valuation perspective
Highly profitable
Growing rapidly
Some combination of the above
Ziggma's stock screener enables you to sort from a massive database of listed public companies by these and other criteria. Not only does the comprehensiveness of the tool help democratize investment research by providing individual investors with access to extensive research data, it also features an intuitive interface that makes it easy to rapidly search for the best stocks.
A Streamlined Interface
The best stock research tools combine access to insightful metrics and robust usability. In its quest to be the best stock screener app, Ziggma's solution does more than serve as a rich resource of equity market data. It also features a streamlined design to help you find the stocks that meet your investment criteria without having to click through multiple screens of irrelevant data.
Ziggma uses easily adjustable sliding scales to enable you to sort by different factors when screening for stocks. The result is that you can identify the top stocks in various categories with lightning speed.
Other features include:
The screener updates search results in real-time when you shift search parameters via our sliders.
You can also switch the focus of your searches from stocks to ETFs in a single click. Note that only on Ziggma you can find an ETF portfolio simulator.
Pre-selected KPIs help you quickly search by the most relevant criteria.
The number of search results are continuously updated.
Filter and sort key metrics in the search results.
Easily compare stocks inside the search window.
After you have selected an assortment of number of companies that make it through your selection hoops, you can use the quick view feature to look at a short profile, KPIs, and mini price charts. If an initial review looks promising, you can add the company to your portfolio or take a more in-depth view of the financial data analysis available in the Company Profile view.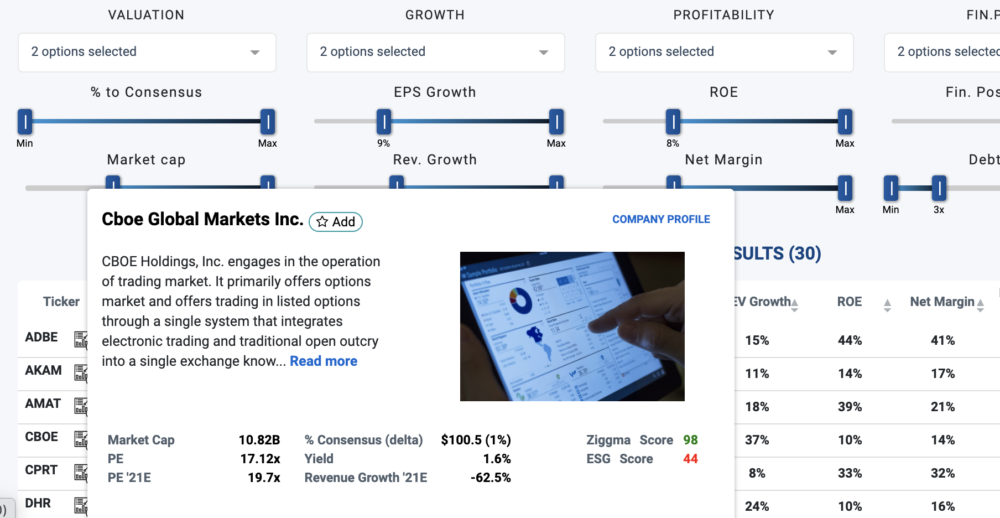 Cut Through the Clutter
Ziggma's stock screener enables you to cast a wide net when searching for promising opportunities. Industry-specific data includes the ever-popular technology sector as well as real estate companies, banks, insurance companies and more.
At Ziggma, we use our expertise in how to research stocks gained from our background as veteran financial analysts to select the key performance indicators (KPIs) which matter most to investors as well as the most effective way to present them. Our interface is designed to help you cut through the clutter of extraneous data and focus on the numbers that matters most.
Our goal is to provide the best stock screener around in order to enable you to access data that can help you make better investment decisions.
Putting Ziggma's Free Stock Screener to Work
Ziggma's stock screener is easy and intuitive to use. After navigating to the solution on the lefthand side of the navigation bar you can get started without delay. You can either use a pre-selected filter or look in the menus at the top to find your own filter. Once your filter selection has been completed, you can use the sliders to focus your search on a more granular level.
By avoiding dropdown menus and the need to manually enter upper and lower bounds, the Ziggma stock screener speeds up the search process. Another benefit of using our screener is its integration with Ziggma's proprietary stock scores. These scores help you narrow your search from the start by focusing only on highly rated stocks.
Another time-saving aspect of Ziggma's stock screener is that it provides you with the ability to launch into your analysis right away by providing an overview of a company's KPIs within the screener itself.
The software offers you the flexibility to look for the top stocks overall or use our sliding scale filters to search by KPI, index, sector or industry. Our pre-sets reflect the KPIs we feel are most valuable.
If you're not sure exactly what search criteria to start with, you can simply use the Ziggma Score filter. It allows you to search by aggregate score, or valuation, profitability, growth, financial position or some combination thereof.
When you have amassed a list of results, hovering over the dashboard icon tooltip positioned next to the ticker will bring up a brief company profile.
Affordable Institutional-Class Stock Research
With volatile markets making stock picking more challenging than ever, it only makes sense to use all the tools at your disposal to help you identify the best stocks.
Ziggma's Stock Screener helps narrow the information gap between institutional and individual investors by including all the features you'd expect in a best-in-class stock research tool – without forcing you to spend big bucks to use it.
See for yourself how Ziggma can help you find the best stocks by taking our app out for a test drive.
Get started for free today.
Important Notice:
This article is not to be understood as a recommendation to buy any of the stocks that are mentioned in it. Please conduct your own research before making investment decisions. To this end, we aim to provide you with the best portfolio management tool and investment research data possible. However, we cannot guarantee the accuracy of this information in spite of our extensive efforts to ensure that the data is complete and 100% accurate.