In this article we show you how Ziggma's free stock scanner lets you screen for high-potential growth stocks in a matter of seconds.
Growth stocks arguably represent the market segment with the greatest potential for value creation. However, in many cases the big upside comes with a good deal of downside risk. This article will lay out why growth is such an important ingredient, which risks you should be watching out for and how to find high-potential growth stocks with Ziggma's free stock screener.
What makes growth such an important factor
Many investors chase after the growth stock that will give them gains of 100% or more within a year or less. But these gems are hard to come by. Often, big gains in a stock simply come down to buzz. Since buzz is tricky to quantify, we prefer to focus on hard facts.
Economies of scale: The number one benefit of revenue growth for a company consists of scale effects. It is the simple concept of revenue growing faster than cost. As a result, a company's bottom line, i.e. net profit, grows disproportionately quicker than revenue on a relative basis. Which in turn boosts the company's value.
Market share gain: If a company grows faster than its industry and peers, it takes market share. There are many good reasons for gains in market shares, such as a great product or even great marketing. In some instances, gains in market share can be merely the consequence of massive advertising spend and may vanish quickly if the company does not sell a superior product or service.
All growth is not created equal.
In certain cases, companies will pursue a strategy of "growth at all cost". Without necessarily having a superior product or service, these companies will spend big to mop up the market with a winner takes all strategy. The battle between Uber and Lyft is a great example. It looks to have been won by Uber who has pulled way ahead of Lyft. After having spent oodles to generate high revenue growth rates, it is far from certain that Lyft may actually one day turn a profit. In fact, Lyft's long-term viability can questioned in light of a financial position score of just 16/100. This example shows that it does not suffice to simply look at headline growth when investing in growth stocks.
A screen recipe for growth stocks
Before we dive into the screener settings, you should that this is just one of an infinite number of possible combinations. One major advantage of Ziggma's free stock scanner is how easily you can adjust settings through to its sliding scales. We are humbled by some users calling it the best free stock scanner on the market.
In this example we will ignore valuation altogether and focus growth, profitability and financial situation in our search for the best growth scores. As of the time of this writing, the screen setting we show below returns 22 stocks within the Russell 3000.
How to screen for stocks with strong revenue and earnings growth
For the purpose of this article, we assume to be on the Premium Plan, which has the distinct advantage of letting us use the Ziggma Stock Score and its sub-scores as a search parameter.
These are the search parameters that focus in on growth:
Growth Score > 80/100
Forward revenue growth > 10%
Forward earnings growth > 10%
Five year compound annual revenue growth > 7%
Five year compound annual earnings, growth > 10%
This screen setting yields 56 stocks for the Russell 3000.
Screening for profitable growth
To make sure that growth is on solid footing, it is important that the company is at least somewhat profitable. Setting a minimum Profitability Score of 60/100 will eliminate all companies with poor profitability and thus minimize the risk of having companies in the list that are pursuing growth at all cost.
This additional screen setting takes us down to 25 stocks, from 56. So, 31 companies were indeed growing very fast but with a relatively poor level of profitability.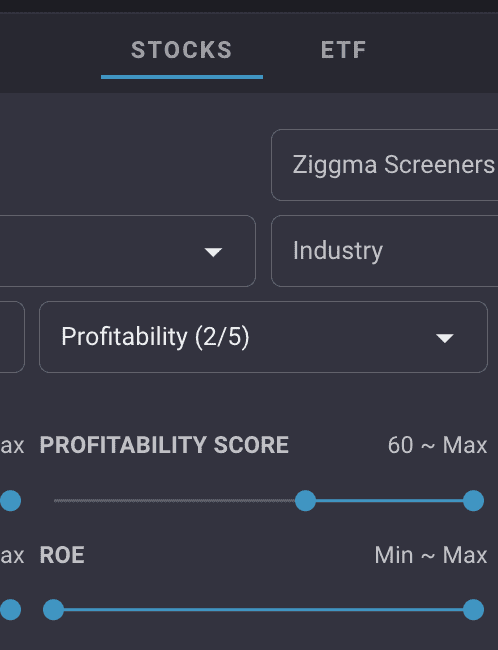 Screening for a solid financial situation
Finally, a fast-growing company must not have excessive debt levels or inadequate liquidity. These somewhat advanced stock research concepts are conveniently captured in the Financial Position Score. In order for our growth companies to support high growth rates over the medium to long-term, they must be well capitalized.
We can weed out the weaker companies by setting a minimum financial position score of 50/100 so that we end up with a high-potential shortlist of 22 high growth companies.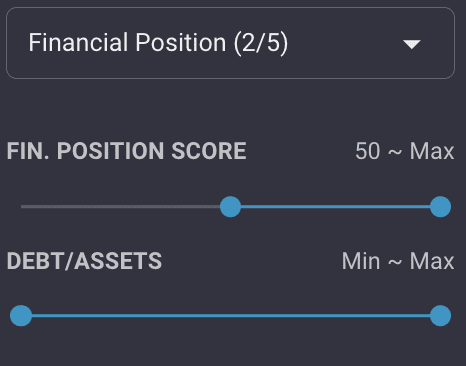 Screening with Ziggma Stock Scores yields huge time savings
A Ziggma Premium subscription ($7.49/month on the yearly plan and $9.90 on the monthly plan) truly gives you the opportunity to take your stock screening to the next level. Along with many other features, it gives you full access to use Ziggma's proprietary Ziggma Stock Scores in the stock screener. This has two major benefits:
You can hardly screen more comprehensively. The Ziggma Stock Scores capture literally all relevant financial metrics. Our proprietary algorithm scores stocks against their peers on 40 different key performance indicators over a multi-year period.
You can use sub-scores to screen in accordance with your investment approach. If you are a growth investor, then the growth sub-score is what you will want to use. Value investors will want to screen for stocks with Valuation sub-score greater than 90, for example.
Narrowing down our screener results to stocks with a Ziggma Stock Score of 90 or higher leaves us with shortlist of 17 powerhouse growth stocks.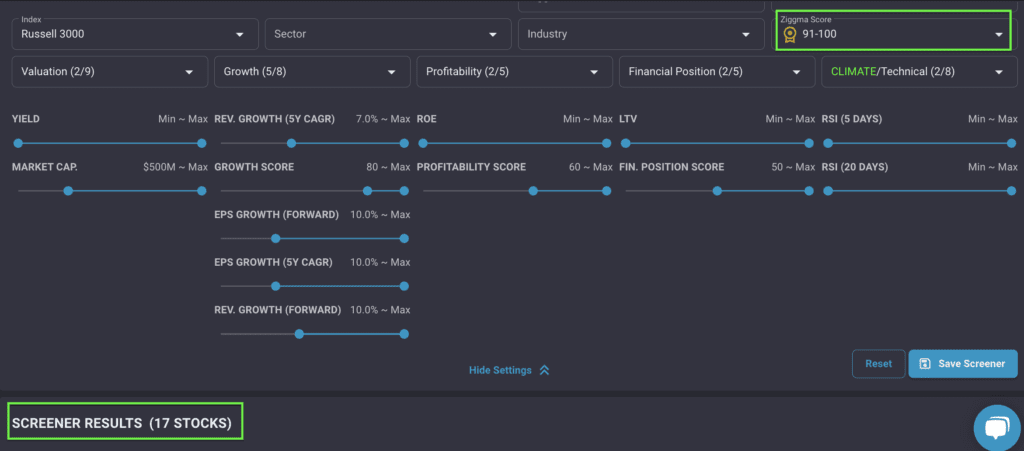 As a Premium user you can now save this screen configuration to check back some other time and find out whether any new stocks fit these search criteria.
We hope that you found this article instructive. It demonstrates how conveniently Ziggma's free stock screener lets you search for great growth stocks. This is very much in line with our objective to provide self-directed investors with best-in-class data and a streamlined stock research experience – no matter whether you are on the free plan or the Premium plan.