In strategic portfolio management it pays to take the 10,000 foot view from time to time. We wanted to know which industries will be the most dynamic in the coming year. Though a rising tide may not lift all boats in the stock market, it will certainly increase your chances if you use an industry's buoyancy to your advantage.
Analyst estimates
Our data science team pulled the average analyst estimates for the companies in our coverage universe and aggregated it at the industry level. As analysts revise their models in the current fast paced environment, this exercise provides us good idea as to where the highest growth rates will be next year.
Revenue growth
As regards revenue, it's a story of two tales. On the one hand, you have three industries, leisure, automotive and retail, that are expected to experience massive rebounds in revenue. Analysts expect total revenue in the leisure industry to rebound by over 30% next year. On the other hand, the structural trend in the Internet and Computer Software industries remains intact with expected revenue growth rates of 19% and 14% respectively.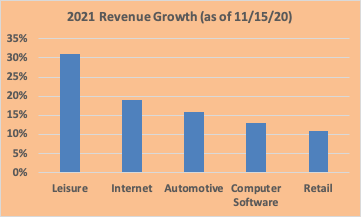 Earnings growth
Next year's earnings growth, according to analysts' average eps estimates, is highest in industries in which it is initially least expected. The energy and insurance industries are projected to be leading the pack when it comes to earnings growth rates at 50% and 35% respectively.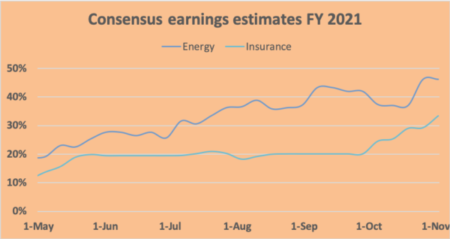 Why energy and insurance?
In both cases, there is a material rebound effect. Energy, especially oil, was hit hard by the slump in demand from airlines and travel in general. Insurers were hit with a spike in Covid-19 related claims. While energy is a pure supply and demand story, insurance is different.
Rational, data-based decision making (there's probably no industry in which numbers and probabilities play as great a part as in insurance…) has already triggered what industry insiders call a hardening rate cycle. The premium to be paid to insurance against certain risks will be repriced substantially to the upside for years to come. Think insurance for travel, event cancellation or business interruption. The best-in-class within the insurance industry stand to benefit.
Our highest rated stocks in insurance and energy
Insurance
Using Ziggma's stock screener tool, our highest rated stocks in the insurance industry is Progressive (PGR). The company features an impressive track record in revenue growth, as shown by the following chart. On top of this, Progressive is a highly profitable company as can be seen by deepening the financial data analysis. 5-year average return on equity was 23.8% as of year-end 2019, the highest in the industry. Progressive's combined ratio, an industry-specific measure that you will only find on Ziggma matching claims expenses and cost against premium written, is consistently in the 80-90%. This illustrates very strong technical (underwriting) profitability.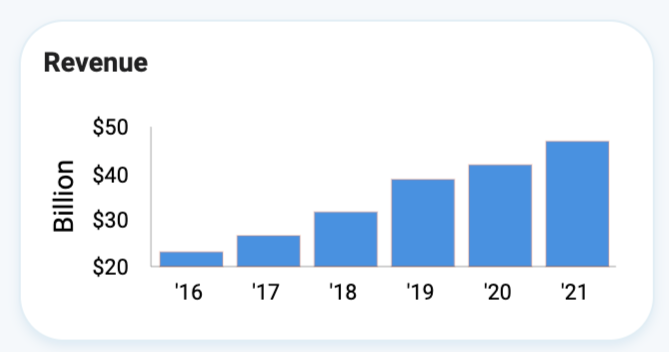 Insurance
In the energy space, our stock screener tool, which many of our users qualify as the best stock research tool in the market, shows
Phillips 66 Partners LP (PSXP)
as the company/stock with the highest return potential. The company owns, operates, and acquires crude oil refined petroleum products, and natural gas liquid pipelines and terminals.
The stock has been beaten down badly with oil prices in the $ 40s for most of 2020. However, the company has consistently grown its net income and operating cash-flow over the past 5 years, as shown by our financial data analysis. Margins are solid with the 2019 EBITDA margin at 69%. Our Ziggma profitability sub-score for PSXP currently stands at 94.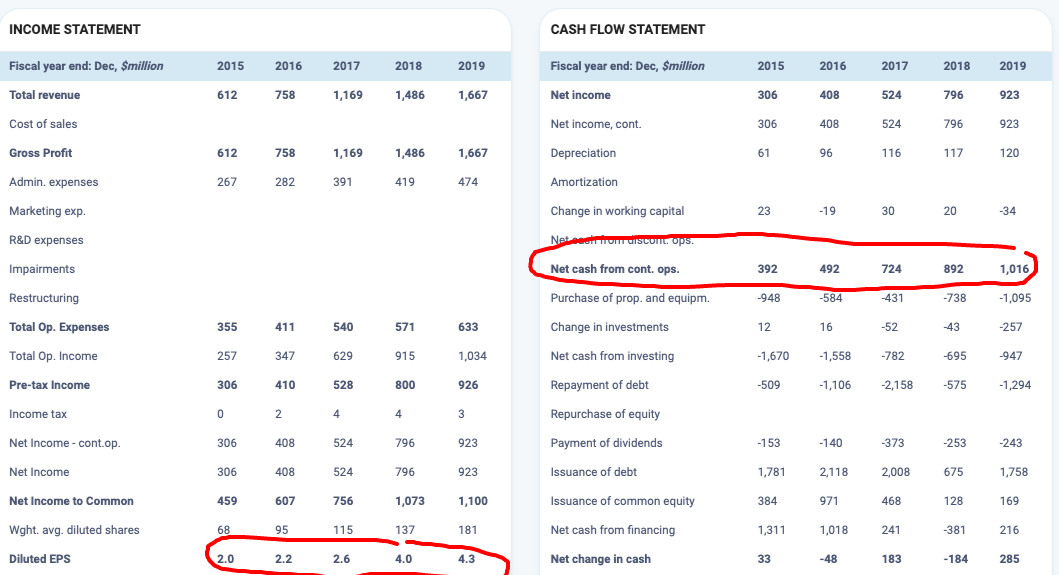 PSXP's balance sheet is in good shape as reflected by a moderate debt/equity ratio of 1.2x. The Ziggma financial position sub-score stands at 74.
Top-down analysis
As seasoned investors and financial analysts we know that top-down analysis adds value to
strategic portfolio management when looking for the highest rated stocks. We believe Ziggma provides some of the best stock research tools out there. The principle is straight forward. Identify the industry with the highest momentum and find the best companies inside.
Please note that the Ziggma Scores are industry specific. At Ziggma we do not provide scores across industries. This would as unprofessional as it is unfeasible. Unfortunately, many platforms out there do it nonetheless. However, it is virtually impossible to score a bank against an Internet company. Each industry has its idiosyncrasies starting with the use of leverage. Banks' balance sheets naturally have a lot of leverage as they take clients' deposits whereas Internet companies generally do and need not employ a great deal of balance sheet leverage. But does a higher leverage mean automatically more risk? You guessed it: not necessarily. This is just one example. Valuation and profitability levels differ as well from one industry to the next. If you want to learn more this topic, please check out this page explaining Ziggma's value added on fundamental analysis.
Important Notice:
This article is not to be understood as a recommendation to buy any of the stocks that are mentioned in it. Please conduct your own research before making investment decisions. To this end, we aim to provide you with the best portfolio management tool and investment research data possible. However, we cannot guarantee the accuracy of this information in spite of our extensive efforts to ensure that the data is complete and 100% accurate.