We keep expanding Ziggma's suite of free stock research tools and are excited to update you on several new features on Ziggma that will help you further improve your portfolio management and investment research.
Our mission: Make portfolio management and investment research easy.
We are hard at work to make Ziggma the leading portfolio management and investment research platform out there. This effort leads to regular roll-outs of new features with the most recent being:
Quarterly Data and Analysis
Dividend payment schedule
Portfolio company news sorted by holding
Lots of positive feedback
While we have been getting a great deal of positive feedback for our free stock screener and our various novel investment portfolio tracking tools, we are not the types to sit back and relax. We are constantly thinking about how we can make portfolio management and investment research as smooth a process as possible for our users.
Always with our mission in mind to enable anybody to confidently manage an investment portfolio and easily find the best stocks and ETFs. Novel features, such as the investment portfolio simulator and our institutional-grade Ziggma stock ratings go a long way towards achieving this goal. Not to forget our free stock screener and stock comparison feature.
On top of these central tools, we constantly seek to add result-enhancing features and views that help our users invest better. These improvements help our users generate both better risk adjusted investment returns and save them valuable time on top of it.
In the following we present our recently released features in more detail and explain how they create value for our users.
Quarterly Data and Analysis as part of our free stock research tools
In our highly acclaimed company profiles, you can now conveniently switch from annual to quarterly data. This feature is extremely valuable to identify accelerating (or decelerating) trends in companies' numbers early. Zoom (ZM) is a good example of this. When the pandemic hit and demand for video conferencing took off, so did Zoom's revenue. Annual numbers will show this only with a significant delay. Instead, the quarterly numbers reflect in a more timely fashion that revenue for example is starting to grow exponentially.
Unlike on Yahoo Finance, quarterly data is entirely free of charge within our suite of free stock research tools.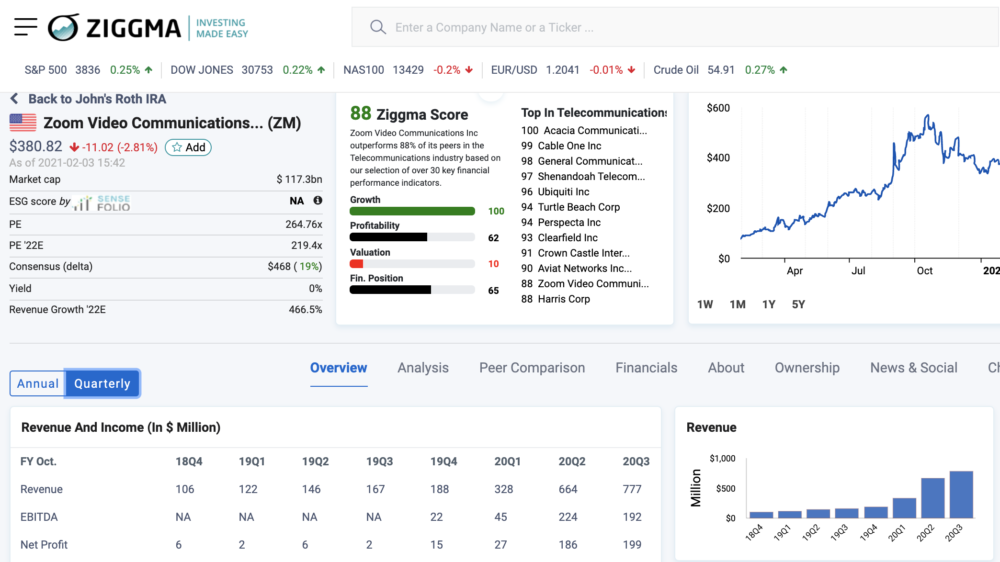 Dividend payment schedule
For income investors we added a monthly dividend payment schedule. It allows you to see when you are getting paid and by whom. This features helps you check for cash flow lumpiness, which is extremely helpful for investors relying on a steady revenue stream from dividends. In addition, this feature visually illustrates trends in dividend distribution. It enables you to see with one glance which companies are increasing dividend distributions and which companies are lowering them.
Dividend payment schedule for model investment portfolios
Our dividend payment schedule is available for all portfolio types, including our model investment portfolios. The following chart reflects the distribution schedule for our own model investment portfolio called Sustainable High Yield. It comprises a diversified portfolio of companies with a solid Ziggma Stock Score and an excellent financial position sub score. By paying close attention to the stock rating, and particularly to companies' financial position, we ensure that the portfolio yield is sustainable over the long run.
By setting Ziggma smart alerts, investors can manage a portfolio such as this one with confidence and a very limited amount of time spent. This is what Ziggma is all about.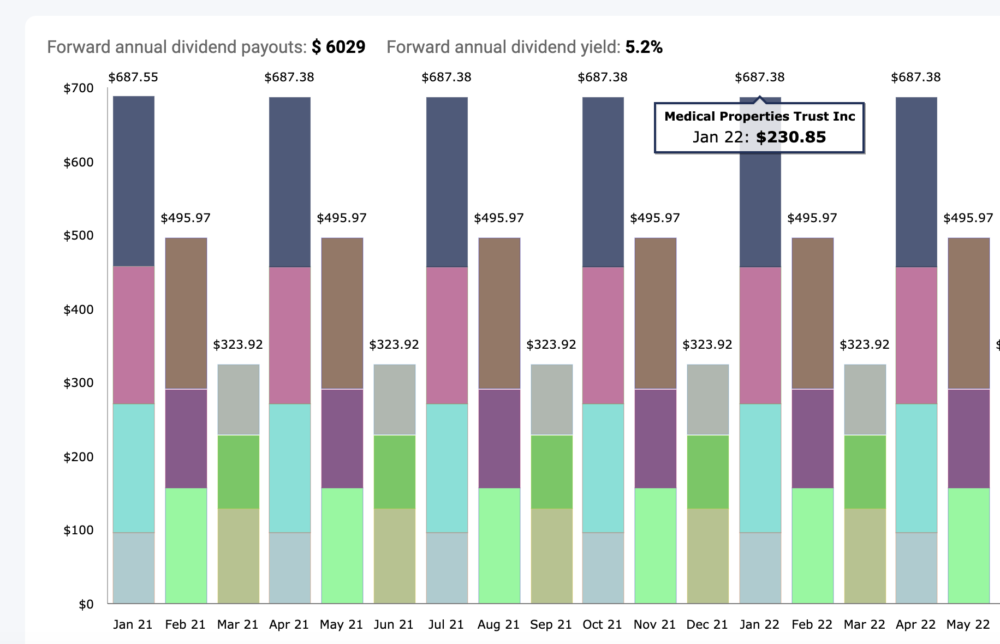 Portfolio company news sorted by holding
Did you ever get frustrated by the fact that most platforms, if not all, show news on portfolio companies in chronological order?
When the news is sorted by time, it makes it very cumbersome to follow the news for a particular company. It's just messy.
On Ziggma, the Portfolio – News tab shows news by portfolio holding, conveniently sorted by the size of the holding. It may seem trivial but our users love it. Organizing news in this way makes it easy for our users to get a holistic view of what is going at each company. Starting with the largest holding which is always the most important one.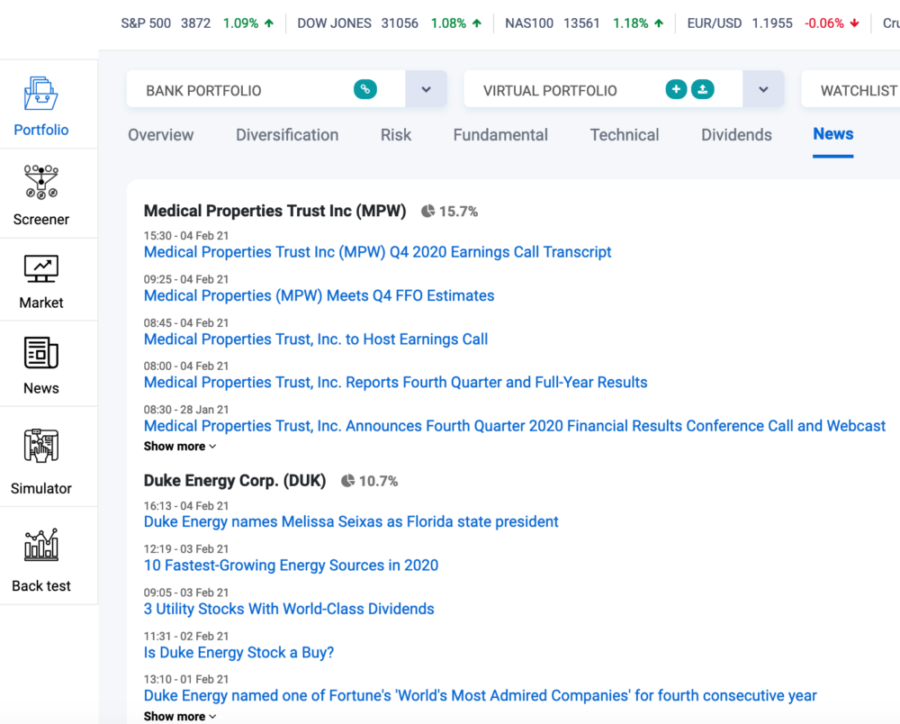 Do you also want to manage our portfolio better and with more confidence? Use Ziggma's suite of free stock research tools.
Sign up
today or check out our
FAQ section
for more information.
Important Notice:
This article is not to be understood as a recommendation to buy any of the stocks that are mentioned in it. Please conduct your own research before making investment decisions. To this end, we aim to provide you with the best portfolio management tool and investment research data possible. However, we cannot guarantee the accuracy of this information in spite of our extensive efforts to ensure that the data is complete and 100% accurate.