Things couldn't be going better for Netflix. The streaming provider is considered one of the biggest beneficiaries of the Corona crisis, which has forced people worldwide to stay at home. At times Netflix was even forced to reduce streaming quality to be able to provide content to all. So is Netflix stock a buy?
First quarter numbers beat expectations
First quarter numbers beat expectations
The first quarter of 2020 saw subscriber growth of 15.8 million more than double analyst's expectations. No wonder we saw Netflix stock rally. Netflix stock is up 23% this year. Analysts continue to be very bullish. Of a total of 38 analysts surveyed by FactSet, 25 recommend the share as a buy, while three others consider the "Overweight" rating to be appropriate.
Analysts point to momentum
Jefferies analyst Alex Giaimo believes that the stock's high valuation is justified thanks to its growth momentum. Other experts argue that the streaming market is "very underestimated and has great potential for further double-digit growth". Other more esoteric comments state that Netflix has proven that it is capable of "creating value in an evolving landscape".
Ziggma's look at the numbers
At first sight, Netflix' numbers are indeed impressive, as reflected by the following charts illustrating revenue and EPS growth.

From an accounting point of view this growth is also very profitable as the following chart shows. Netflix' return on equity is expected to grow to around 50% by 2021. Small wonder many investors consider Netflix stock a buy.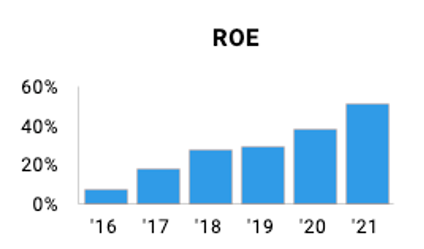 But a look behind the curtain unveils a much less pretty picture. Operating cash-flow has deteriorated in each of the past four years. In 2019, a staggering $3bn went out the window.

How does Netflix fill its coffers back up?
You may have guessed it. By taking on debt. Netflix's total debt increased more than threefold from $8bn in 2016 to $26bn by 2019. So what is on the asset side of the balance sheet? Yes, content valued at $27bn.
How will it play out?
Is Netflix stock overvalued? What is a reasonable Netflix price target? It's difficult to call. How much is Netflix's content really worth? Will customers be loyal if Amazon, Disney, Apple or Hulu delivers the goods all of a sudden? The fact is, customers can cancel at any time. It's not what you call a really stable business. But, we do not have a crystal ball, we just look at the numbers.
Our analysis
If you have taken a look at the Ziggma Stock Score on Netflix you would be aware that our data analytics bears out that Netflix is not the superstar all the analysts make it out to be. At least not judging by the numbers. The Ziggma Stock Score for Netflix stands at 22. Numbers don't lie. Netflix reaches a growth score of 49, held back by the continuous deterioration in operating cash-flow.
A company that consistently loses heaps of cash will have a hard time scoring well on profitability (score of 29). Nobody will argue that Netflix's stock price is cheap (Valuation score of 18) and, finally, financial health is also sub-optimal as only 25% of the companies in the Media industry have a higher Debt to Equity ratio. The current ratio is even below 100%, which only works as long as banks will provide Netflix with more debt. These are some of the factors that land Netflix a financial health score of no more than 38.
Our message
Investors have to look at the numbers to avoid bad decisions. Our analysis of Netflix bears out that Netflix shares clearly are a risky proposition at these valuation levels. Granted, Netflix' issues are not immediately visible as pointed out in this article. You have to look at all the numbers to get a good picture.
In order to always get a clear and objective picture of a company's financial performance we have designed the Ziggma Stock Scores. Drawing on decades of experience as financial analysts and big data analytics we compute our Ziggma Stock Scores daily for all publicly traded US companies with a market capitalization greater than $100m. The Ziggma Stock Scores are the product of continuous analysis of over 30 financial ratios and variables, with industry-specific customization (cost/income for banking, FFO for REITs etc.). Learn more about Ziggma's Stock Scores on here.
Try Ziggma for free and check out how we score your favorite stocks.