As you may have noticed, over the past few weeks we have added several new model investment portfolios both in the Star or Guru Investors and Ziggma Portfolios categories. These contain some very interesting investment ideas which could make for attractive additions to your portfolio or watchlist. Try Ziggma's investment portfolio software for free and check out our popular model portfolios.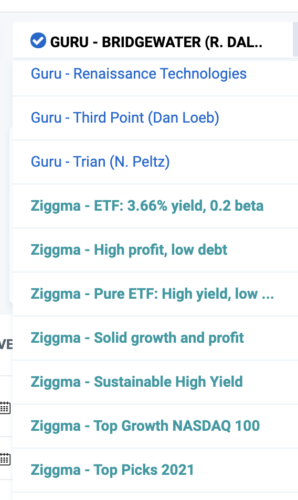 Reminder: What are the Ziggma model portfolios?
There are two categories of model portfolios: Ziggma Portfolios and Star Investor Portfolios, or guru portfolios. They share the objective of providing Ziggma users with a means of inspiration and a comparables for their investment portfolio construction.
The Ziggma Portfolios comprise portfolios put together by our team based on a variety of criteria, such as our Ziggma Company Performance (CP) Scores, asset allocation constraints or top ESG (environmental, social and governmental) criteria.
The Star Investor Portfolios essentially comprise the main holdings of some of the most brilliant investors worldwide as of the most recent regulatory filing (these are mandatory every three months). These guru portfolios include Warren Buffet, Dan Loeb, Steve Cohen and some less known but just as successful investors, such as David Abrams being one example. All in all, Ziggma currently maintains 11 Star Investor portfolios with a few more coming online later this year.
Key benefits of Ziggma's model portfolios
Stock research is time consuming. While our tools, such as our multi-asset screener, can make you much more efficient in your stock selection and monitoring, but why not find inspiration and investment ideas in our model portfolios and start your stock research from there?
By taking this approach you will reap the following benefits:
• Save time
• Invest alongside some of the most brilliant investors (Star Investor Portfolios)
• Gain the ability to use the model portfolios as a starting point for your personal portfolio
• Get access to a multitude of carefully analyzed investment ideas
• Gain reassurance if model portfolio holdings correspond to your personal favorite stocks.
Try Ziggma for free today to check out how we make investing easy.