Ziggma's Star Investor Portfolios
Stock research tools free of charge such as Ziggma can help investors looking to improve their stock selection chops.
Ziggma's portfolio management and stock analysis software features Star investor portfolios containing the top ten holdings of some of the most successful investors in the U.S.
You can use this data to narrow down a stock market search and to compare with your own portfolio to see if some of these stars' holdings match your own. For investors interested in learning how to research stocks, seeing what these star investors are buying can be a good place to start.
Elliot bets big on EBAY
One star investor, the Elliot Fund, has made eBay one of its largest positions.
The ecommerce leader's stock has performed very well recently, as such firms have benefited from the move towards online shopping in the wake of the coronavirus pandemic. By making the online retailer a top holding, Elliot appears to believe that eBay stock still has plenty more room to run.
The following analysis uses Ziggma's stock research tools to attempt to determine why Elliot is long eBbay.
What does Elliot see in EBAY?
eBay Inc. (NASDAQ: EBAY) connects millions of buyers and sellers on its online auction site. The company prides itself on providing economic opportunity for individuals, entrepreneurs, businesses, and small, medium, and large organizations. eBay's operations span 190 countries across the globe and the brand portfolio includes eBay Marketplace and eBay Classifieds Group.
To try and find what Elliot sees in eBay stock, Ziggma's software offers a handy tool – the custom Ziggma Score. This score helps users perform top stock research by ranking companies against industry competitors taking into account four factors: Growth, Profitability, Valuation, and Financial Position.
eBay has a Ziggma Score of 74, meaning that it outperforms 74% of its peers in the specialty retail industry based on Ziggma's analysis of over 30 key financial performance indicators. While 74 is a good score, and offers an initial indication of why Elliot might have been attracted to eBbay stock, it is necessary to delve into the details of the company's score to get a better idea of what it is about eBbay's performance that Elliot found so compelling.
In so doing, we find that eBay's above average score was largely driven by one category: profitability. eBay notched rather average scores of 59 in growth, 54 in valuation, and 46 in financial position. The company's score in profitability, however, was stellar: 95 out of a possible 100.
Digging into the numbers
To analyze the factors that make eBay so profitable more closely, take a look at the following chart from Ziggma's software.
Clearly, eBay's ROE (return on equity) has been in a serious uptrend over the last few years after dropping off steeply in 2017. Ziggma shows that in this metric eBay ranks highly – number 5 of the 51 companies in its industry. A savvy investor like Elliot knows that investing is not just about promise and potential, even more important is the cold hard cash that a company earns for its investors. Given eBay's ability to perform well in relation to its equity, it should be no surprise that the company attracted Elliot's attention.
It makes sense that a company that has a high return on equity also does a good job of bringing profits to the bottom line. EBITDA margin measures a company's profit margin after interest, taxes, depreciation and amortization. While eBay's EBITDA margin has dipped a bit from 32.3% in 2016, it has nevertheless held at a healthy level in the past few years, coming in at 27.8% in 2019, highly ranked at number 5 in its group.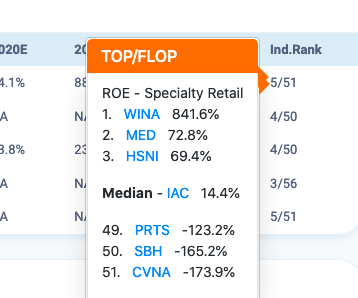 It's all about the bottomline
Sourcing these metrics from Ziggma's proprietary scoring system helps users zero in on important factors in the stock selection process. In the case of Elliot's purchase of eBay stock, the Ziggma Score shows that the company's robust profitability metrics help it stand out from its peers, and this may very well be a major reason behind the legendary hedge fund's interest in eBay. Let the Ziggma Scores help you in how to research stocks.